CATStyle Blog
Come on board and write about your funny cat and share your stories with all the other cat lovers.
3 minutes reading time
(608 words)
Cat Helps Raise His Kittens After He Was Rescued Along with His Best Friend from Shelter
Charles and Caroline, two bonded cats, were turned to a shelter in Athens, Alabama when their owner had to relocate due to a job loss.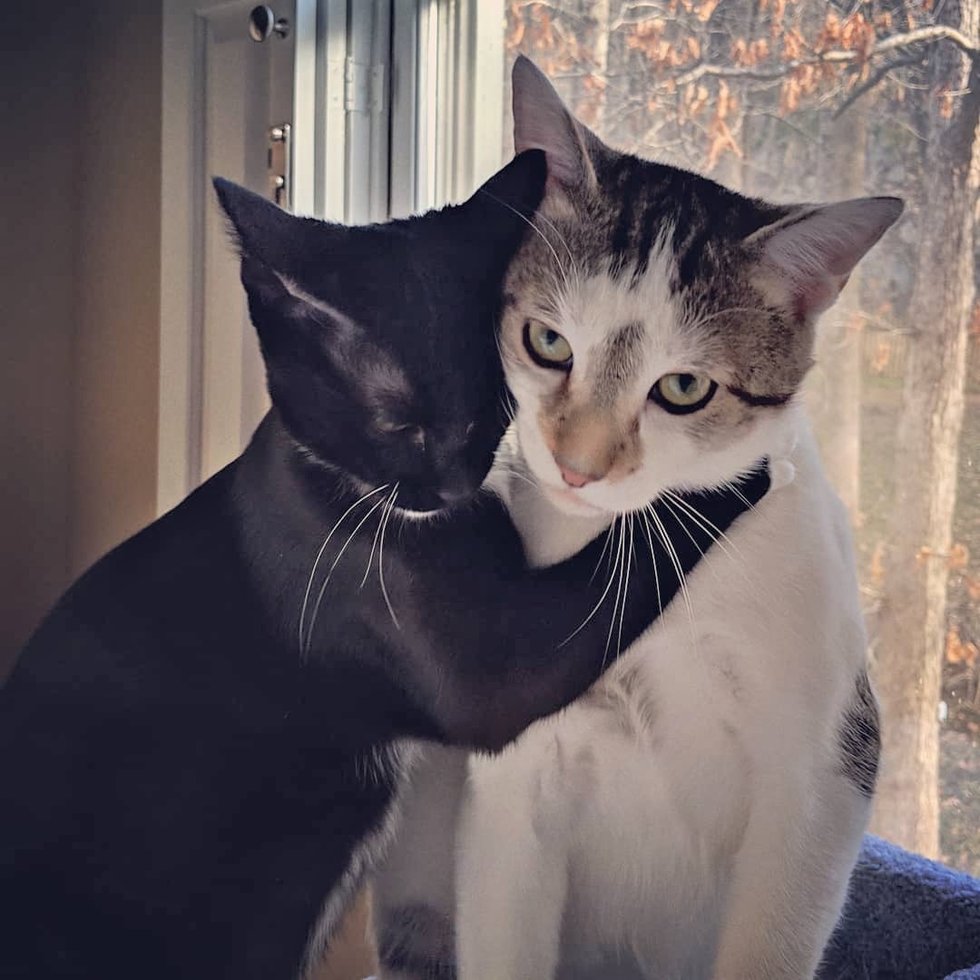 Robyn Anderson
Forgotten Felines of Huntsville, a rescue group in Huntsville, Alabama, took them out of the shelter and into a foster home as the tuxedo needed extra help. "Caroline and Charles had been living in the same home and hadn't been spayed/neutered, so naturally, she ended up pregnant," Robyn Anderson, foster mom, said.

Charles was then neutered before joining his best friend in foster care. He was almost twice the size as Caroline, but she was full of sass. Charles spent a lot of time cuddling with Caroline while she was pregnant.
Right before Valentine's Day, Caroline went into labor and brought five healthy brown tabbies into the world. Charles gave her the space she needed but would come running when he heard the kittens cry.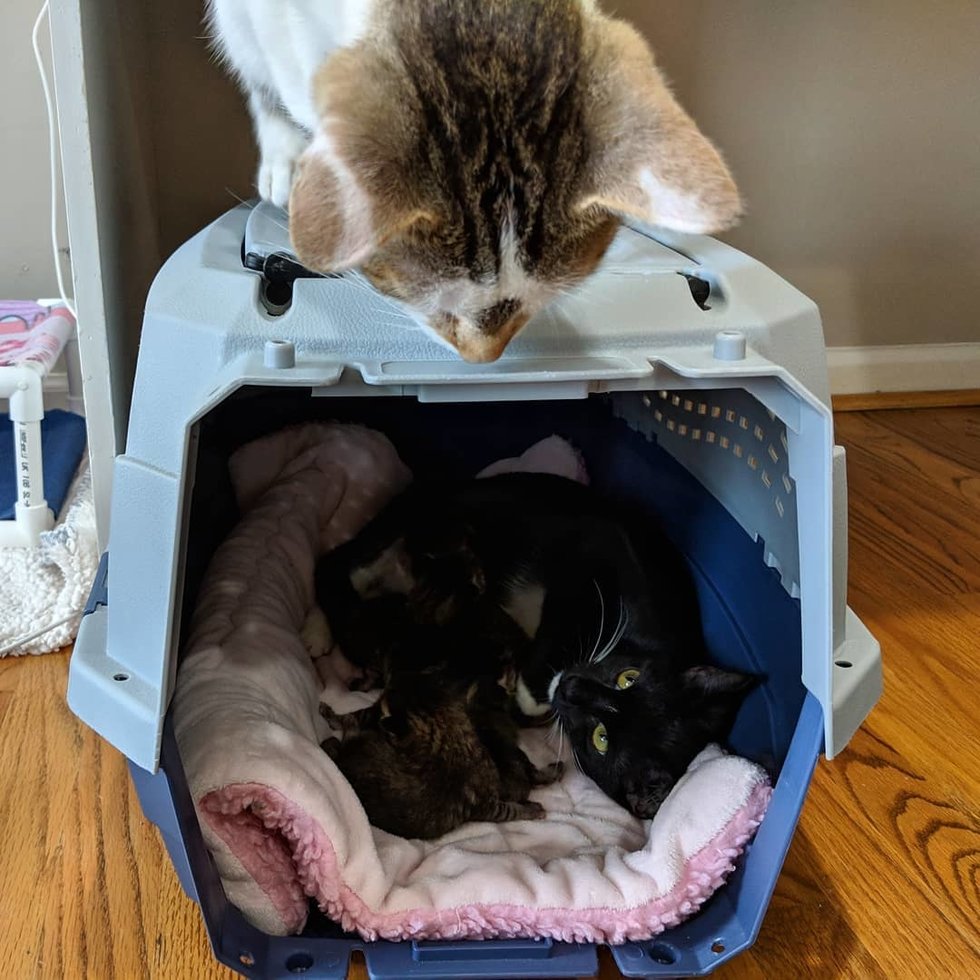 Robyn Anderson
"He stuck his head in the carrier once or twice to sniff at the kittens during the night, with Caroline looking on," Robyn said.
"They are named after Caroline and Charles Ingalls – Little House on the Prairie – and their kittens (two girls and three boys) are Laura, Mary, Albert, Almanzo and Willie."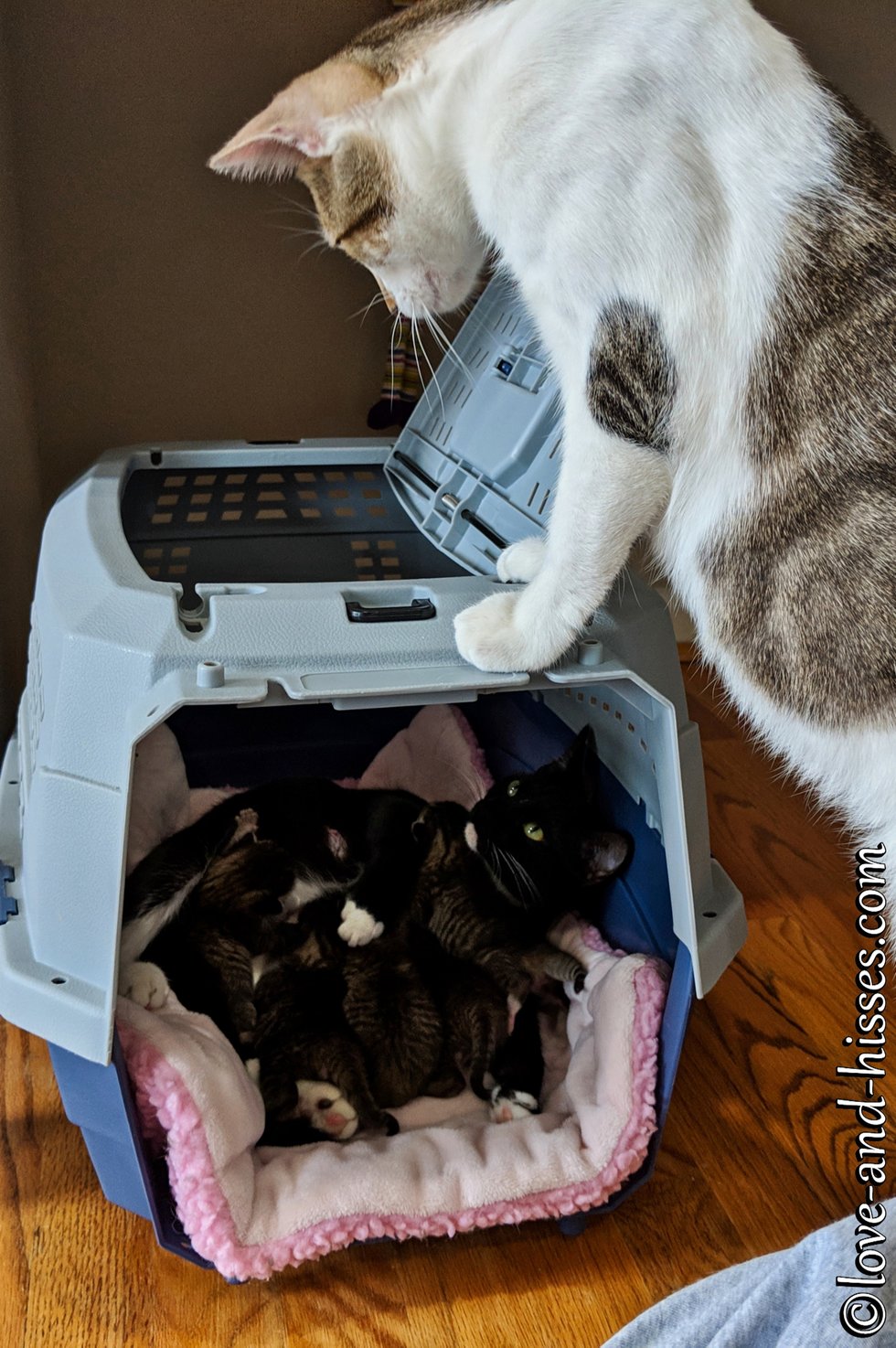 Robyn Anderson
Caroline was a wonderful mom from the get-go while Charles was a bit puzzled but interested in knowing more about the kittens. He kept checking them out and helped Caroline clean her tail.

When the mama took a break from nursing, she would snuggle up to Charles for a quick nap. "I think he missed her, but she was making a point of spending time with him."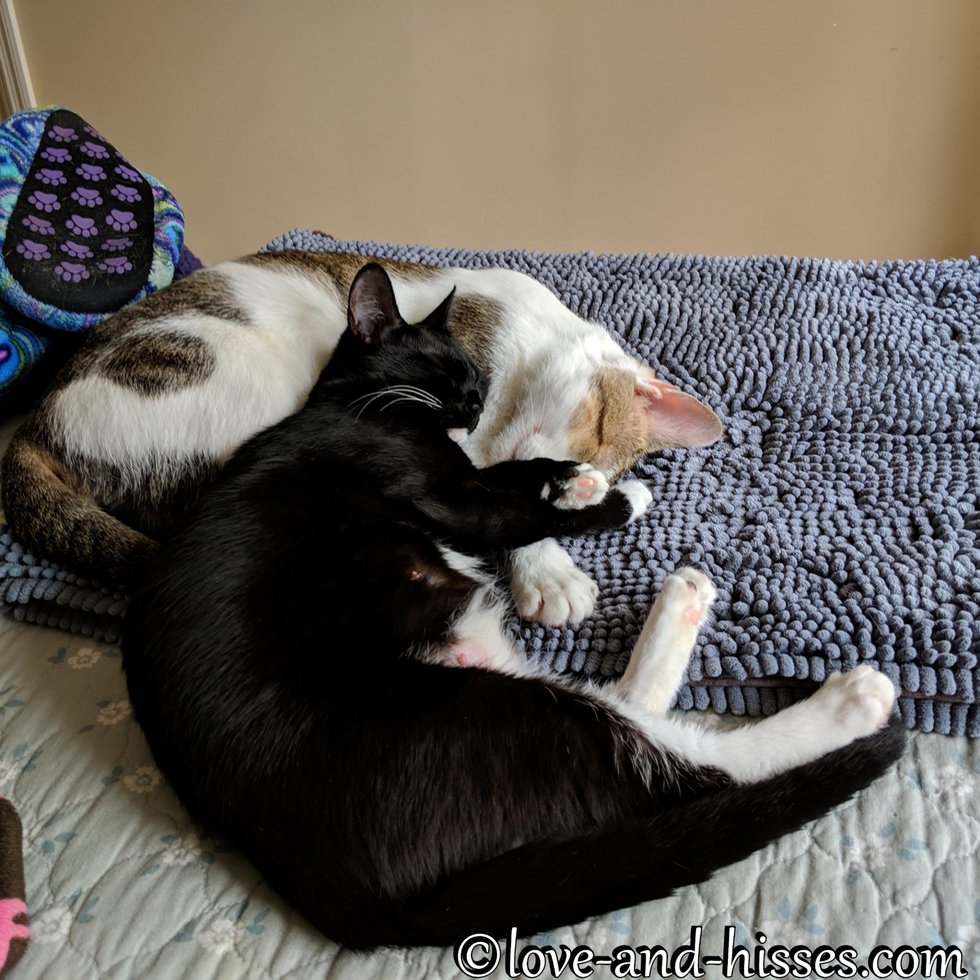 Robyn Anderson
Over the next few days, Charles regularly came to check on his little family.

While he was cleaning Caroline's face during one check-in, he licked a kitten a few times. From then on, he began to give the little ones more attention and love.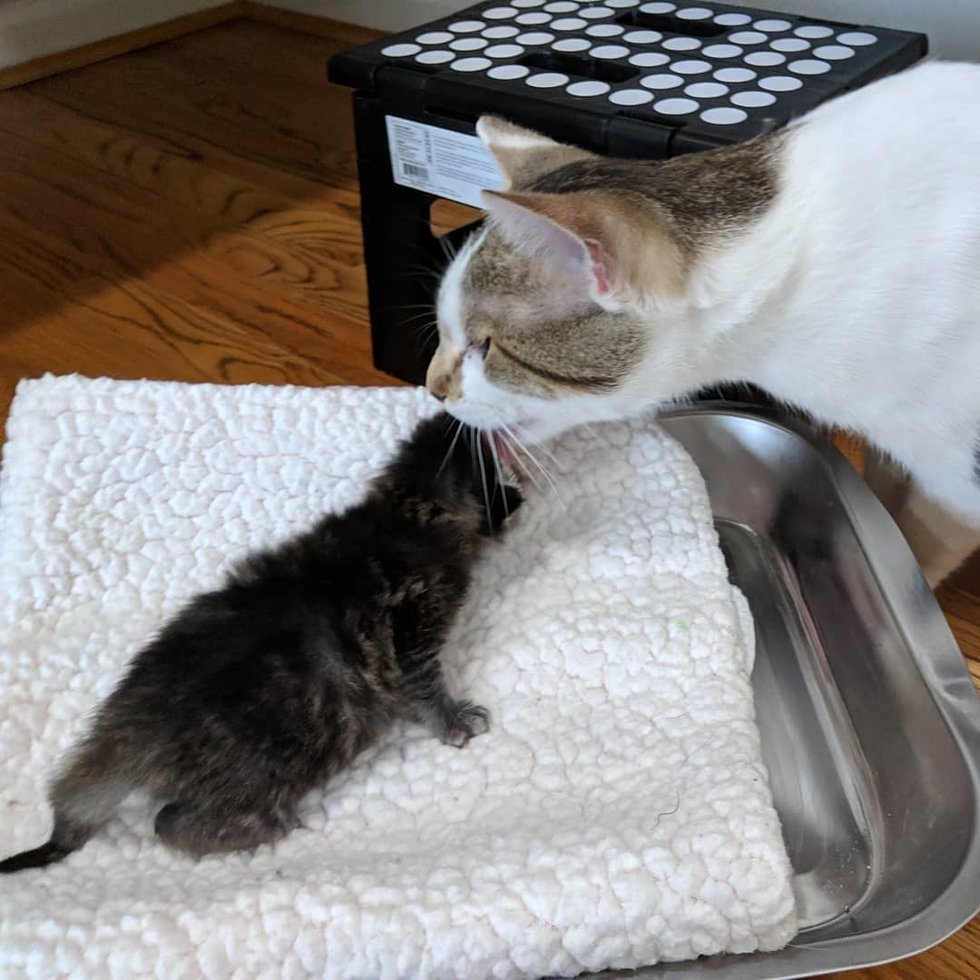 Robyn Anderson
Charles would howl for his best friend if he didn't get to be with her much. "Caroline started spending more time out of the crate, just hanging out with Charles," Robyn said.
"Being able to just hang out near her is what makes Charles happy."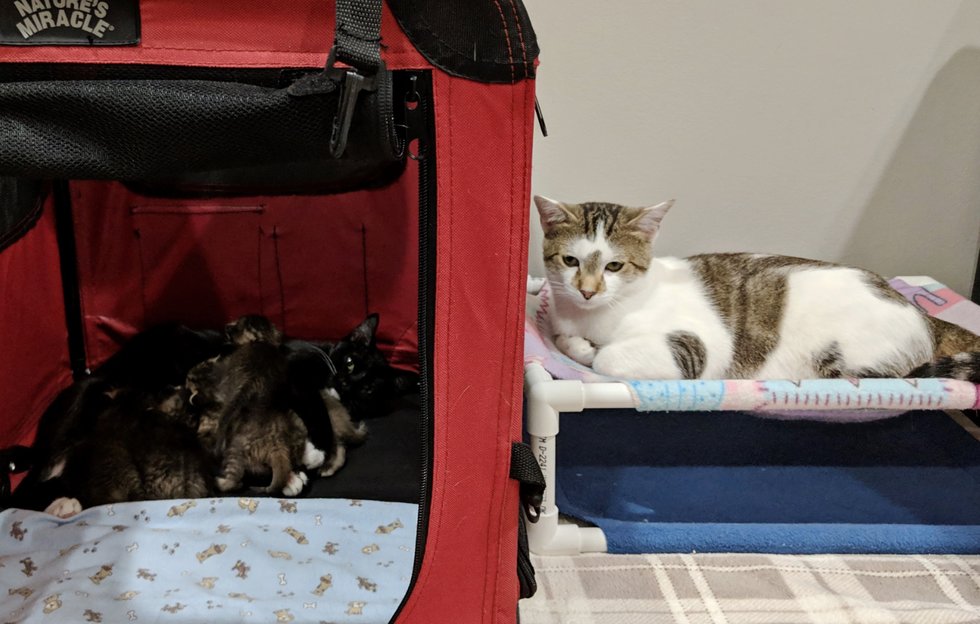 Robyn Anderson
After Robyn upgraded the nursery to a big crate, Charles started kitten-sitting right outside while keeping Caroline company.
A week later, something adorable happened.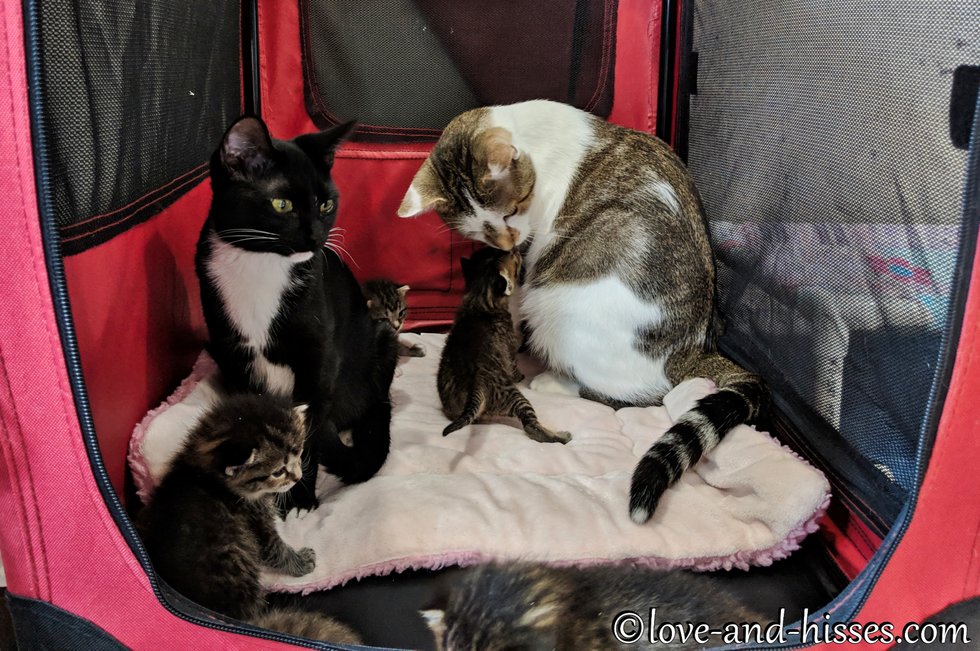 Robyn Anderson
Caroline let him join them in the crate and snuggle together as a big cuddly family. At night, she would put her arms around him while he was grooming away.
"These kittens certainly do like their Pa, and the feeling is mutual. He spends time with them and has started playing with them. He also occasionally bathes them," Robyn told Love Meow.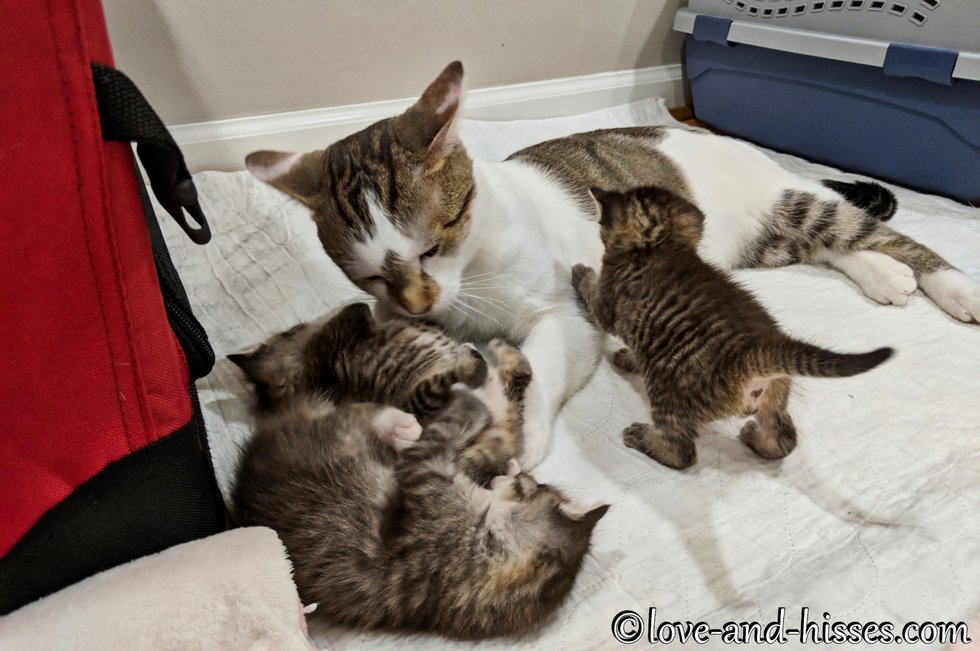 Robyn Anderson
Today, Robyn saw little Almanzo tagging along with his dad in the hallway, following his paw-steps.
The kittens are getting bigger and more playful each day, and starting to learn new skills from their parents.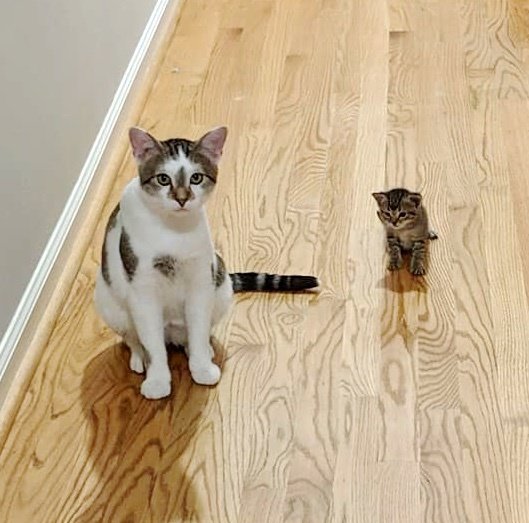 Robyn Anderson
Charles and Caroline share an unbreakable bond. Once the kittens are weaned, the cat mom will be spayed and look for a forever home together with Charles.

"This is her first and last litter. Once the kittens are ready, they will also be spayed/neutered, vaccinated, and adopted out via Forgotten Felines of Huntsville here in Huntsville, Alabama."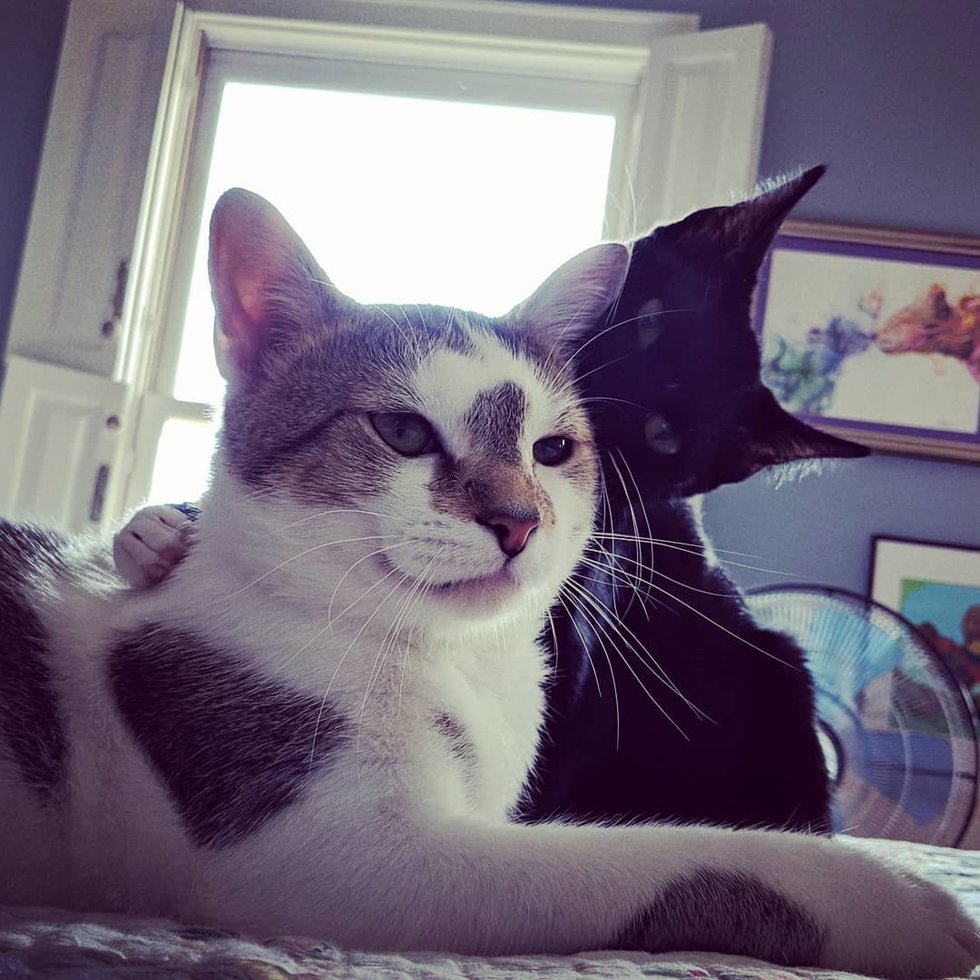 Robyn Anderson
Follow updates on this beautiful family on Facebook and Instagram.
Watch Charles and Caroline caring for their kittens in this cute video:
Share this story with your friends.

Related story: Kittens Give an Old Cat a Purpose to Live - He's Outlived Everyone's Expectations
Original author: Amy Bojo
How do you feel about this post?
Stay Informed
When you subscribe to the blog, we will send you an e-mail when there are new updates on the site so you wouldn't miss them.
Comments
No comments made yet. Be the first to submit a comment