CATStyle Blog
Come on board and write about your funny cat and share your stories with all the other cat lovers.
3 minutes reading time
(693 words)
Couple Agreed to Foster 4 Kittens Without a Mom But the Kitties Had Their Own Plan
A couple took in a litter of four kittens who needed foster care. They thought they would care for them until they found their forever homes.
But the kittens had a plan of their own.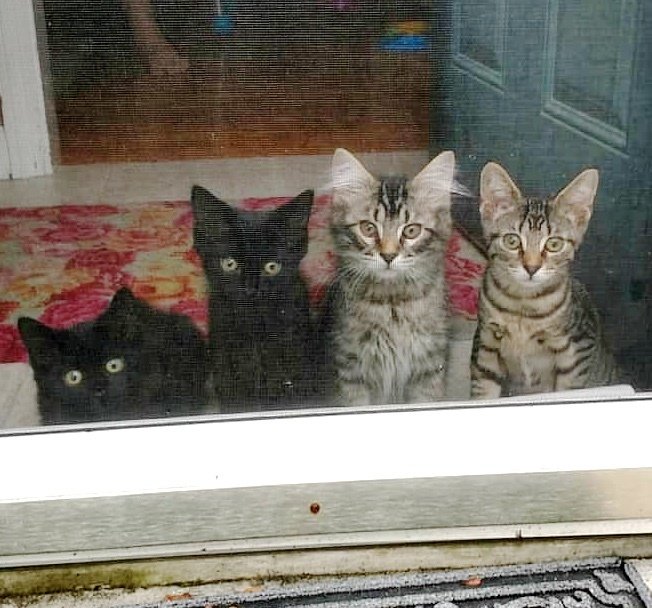 Sarah Hughes
A few months ago, a neighbor from Elkhart, Indiana contacted a local TNR rescue, Catsnip Etc, to help with their outdoor cats. During the rescue mission, they took in a litter of 8-week-old kittens. The feline siblings were later transferred to Here Kitty Kitty Rescue, where volunteers, Sarah and Rick Hughes, opened their home to them.

"Rosie, Violet, Leo and Finn came home with us just a couple weeks after they were rescued," Sarah told Love Meow. "We were smitten with them immediately."
From the get-go, the kittens made it their mission to stay together and be close to their foster parents at all times. While the couple was discussing how they would like to adopt them out into pairs, the kittens were plotting to change that. "I was adamant that we were not going to be foster fails, it was not a part of the plan," Sarah said.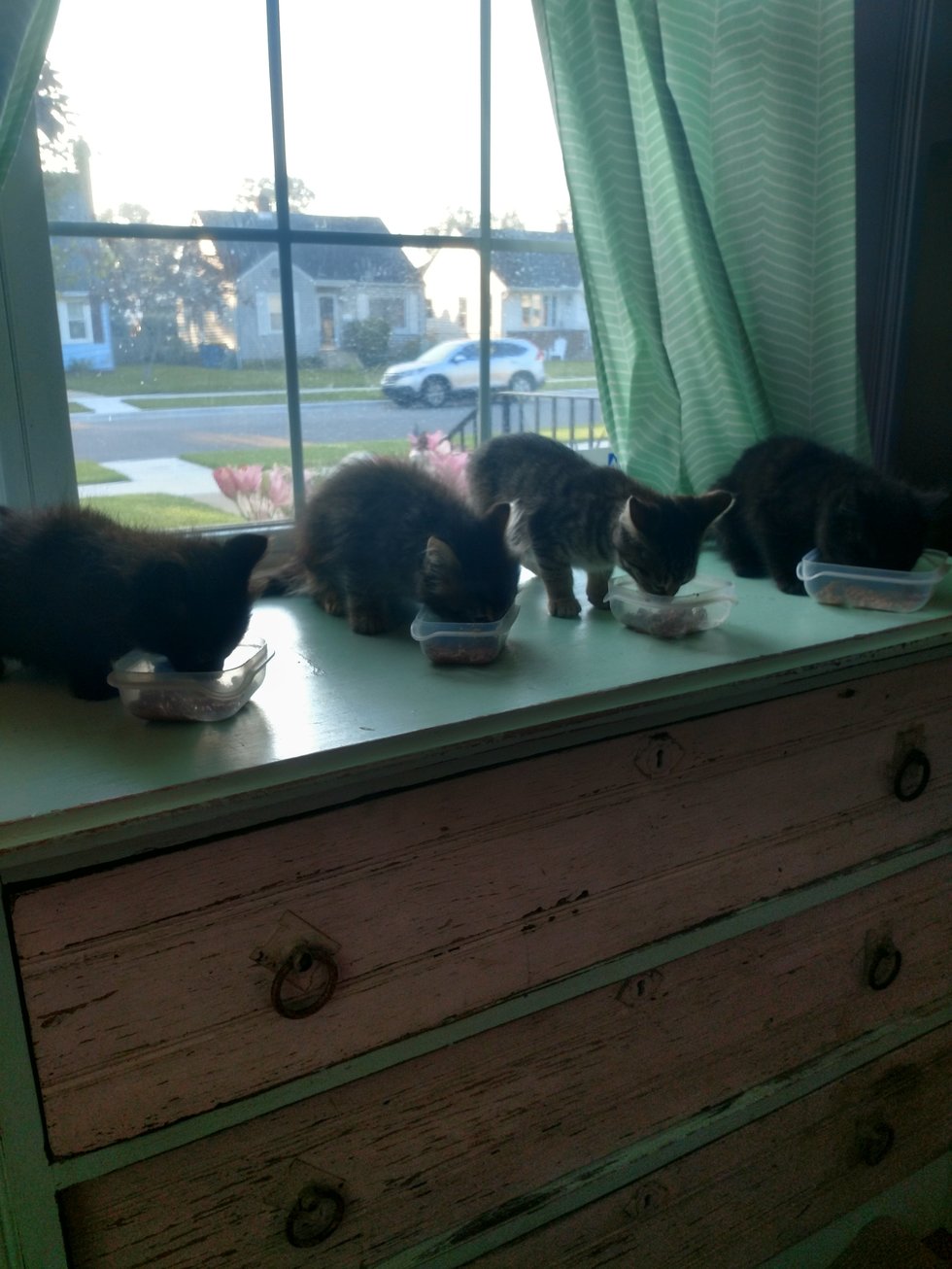 Sarah Hughes
Perhaps, the more she tried to resist, the more determined the kittens were to steal her heart. It didn't take long for her husband, Rick, to fall head over heels for them.
"My husband, Rick, says he was sold the second we got them. He says he knew within a few days, I wouldn't be able to part with them."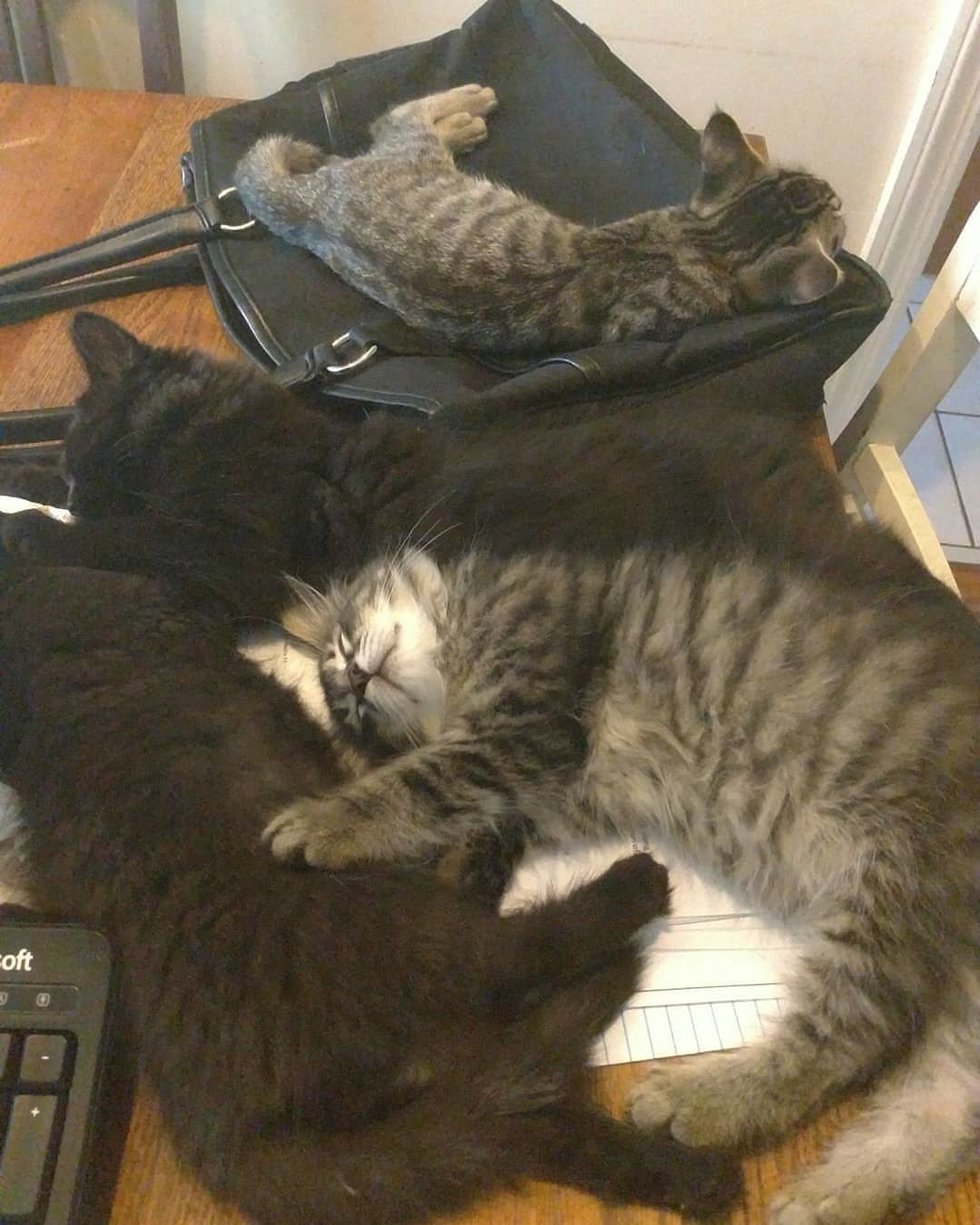 Sarah Hughes
Over the next few months, Sarah tried to stand her ground and not to get too attached. It worked for a while until one day in early October, she began to cave.
"I came home sick from work one afternoon and all four kittens were lying in bed with me. Leo was being so cute as he's very affectionate when he's sleepy and will nuzzle your face," Sarah told Love Meow.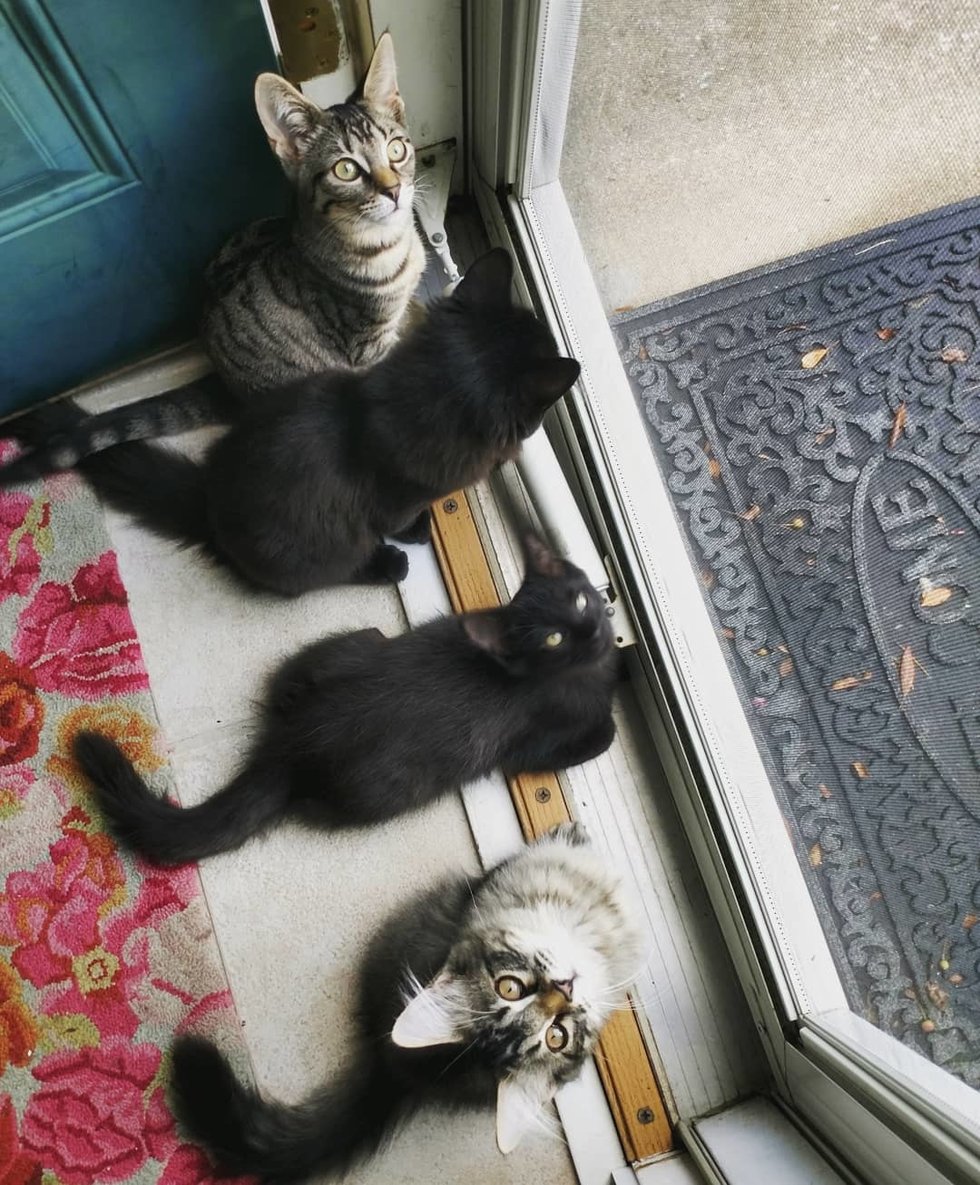 Sarah Hughes
"I started to feel my resolve weakening and thought, I have got to keep Leo. Then I looked at Rosie and thought about how she's the only one who lets me hold her like a baby, and I have to keep her."

When she turned to Finn and Violet who were purring up a storm right next to her, her heart melted. "Finn plays fetch with us with his toy mouse. I thought, he's so special too. And Violet, who we affectionately call 'Violence' at times, because she can be a little terror tearing out wall clings, bites at our legs and feet, but we love her. I thought, I want to keep them both, too."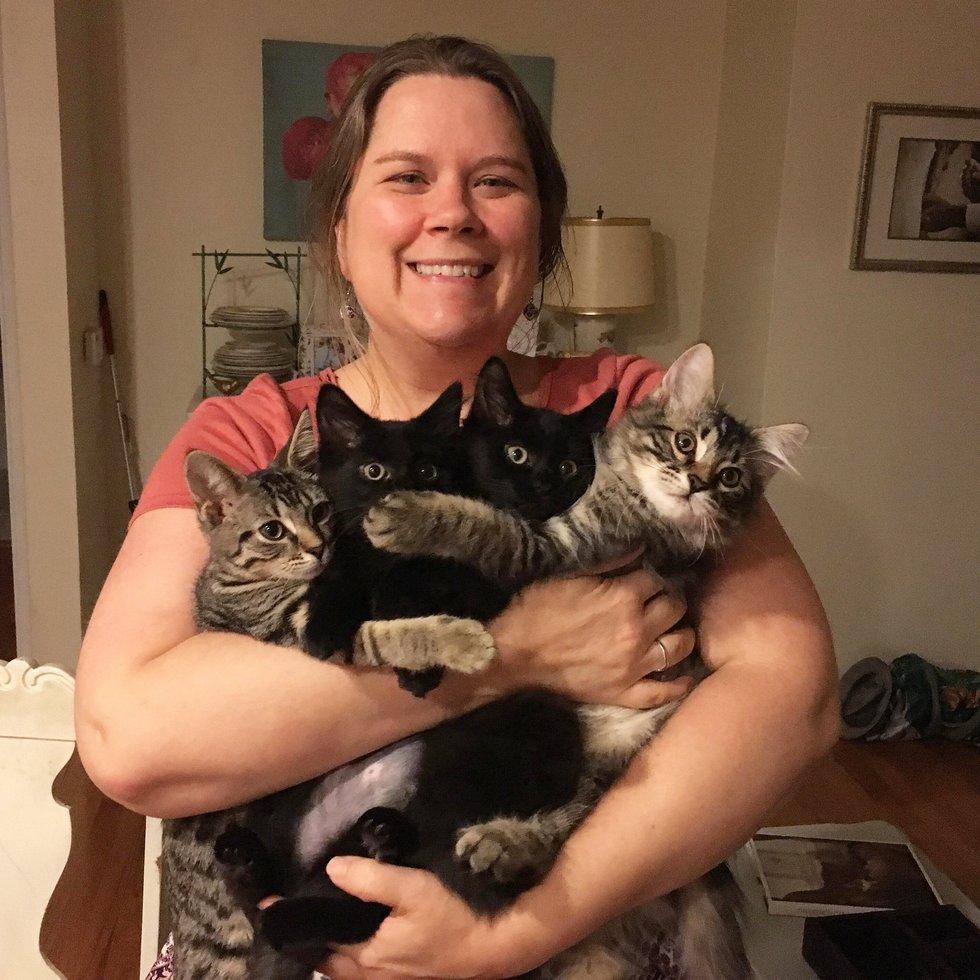 Sarah Hughes
That day, all four siblings stayed by her side, purring in unison, as if they were trying to help her heal. Sarah looked at these adorable little angels around her and knew they were already home.

"We are bonded and connected to all four of them in different ways. They each have these unique personality traits that make them special. They each fill a special, equal place in our hearts," Sarah added.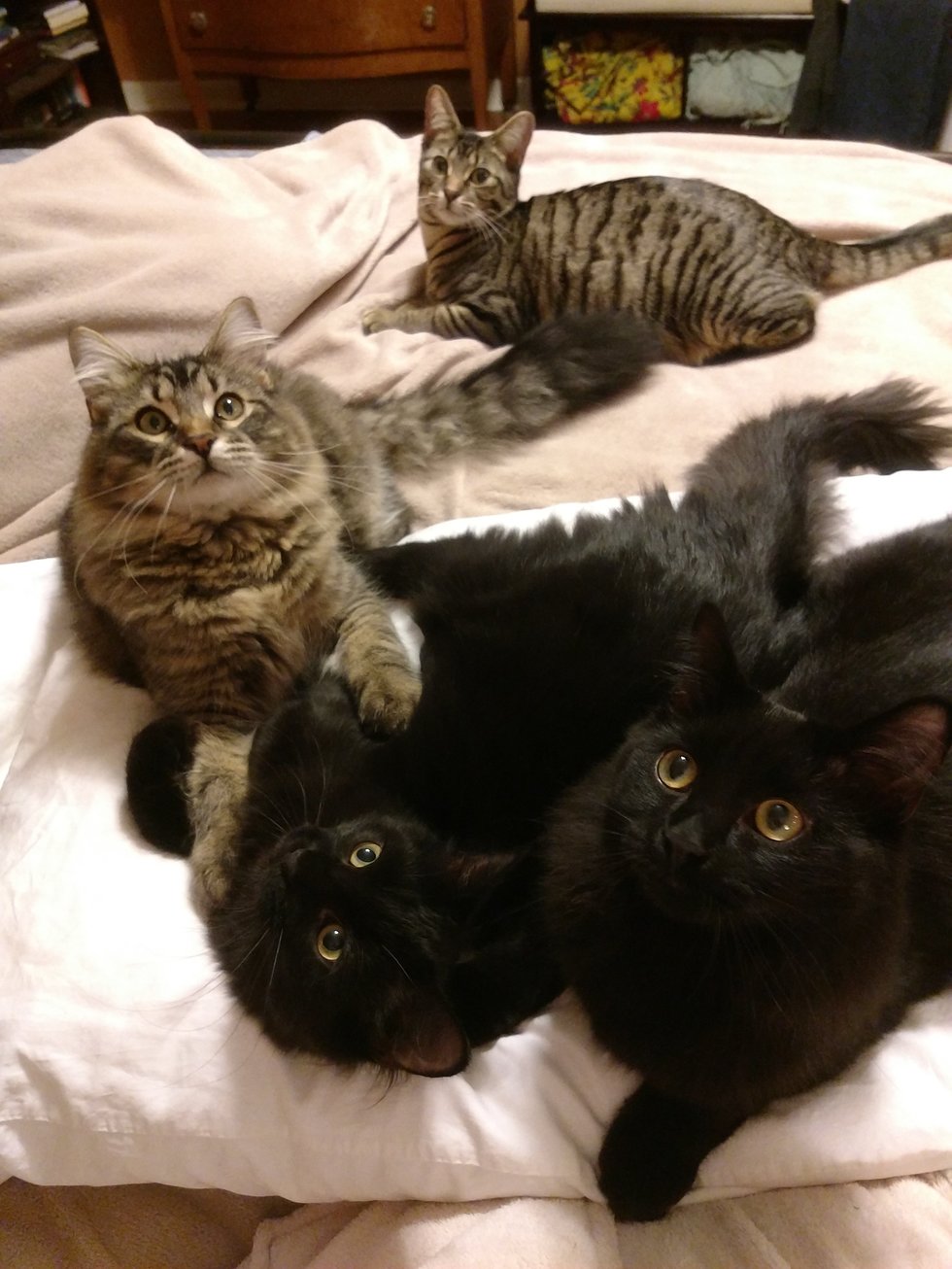 Sarah Hughes
"The wise old saying goes, If you start to care for someone, you become attached to them, you let them enter your heart. That is what our friends Rick and Sarah just did." Here Kitty Kitty Rescue said. "All four are staying home to be loved forever!"

The bonded quartet started their lives together on the streets with a very uncertain future. Today, they are spending their first Thanksgiving with their loved ones at their forever home.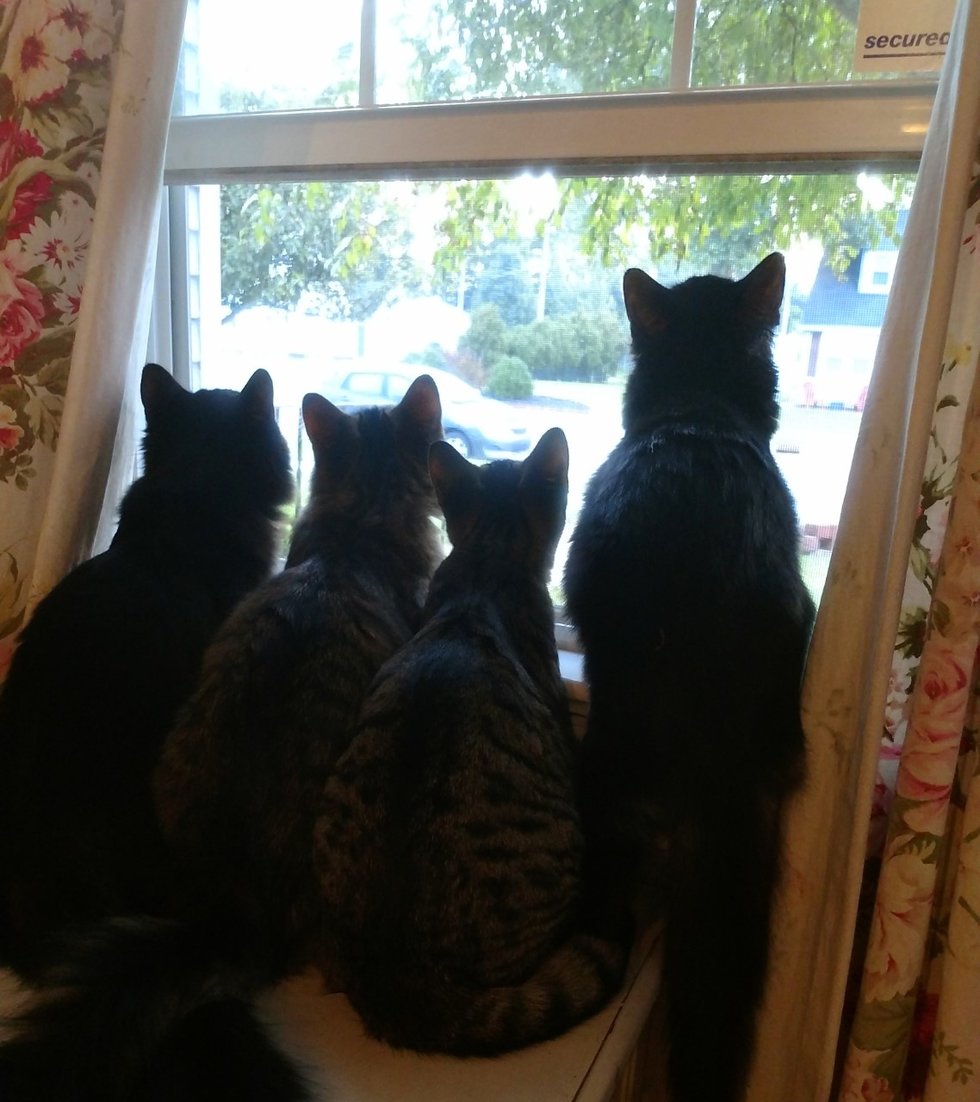 Sarah Hughes
"Ever since we started volunteering at HKKR a year ago, I always dreamed that someday we would take an adoption photo there, each with both of our hands full of cats we were taking home," Sarah told Love Meow.

"Our home is the only home these four have ever known and we realized they were already in their forever home here and we never wanted any of them to ever leave."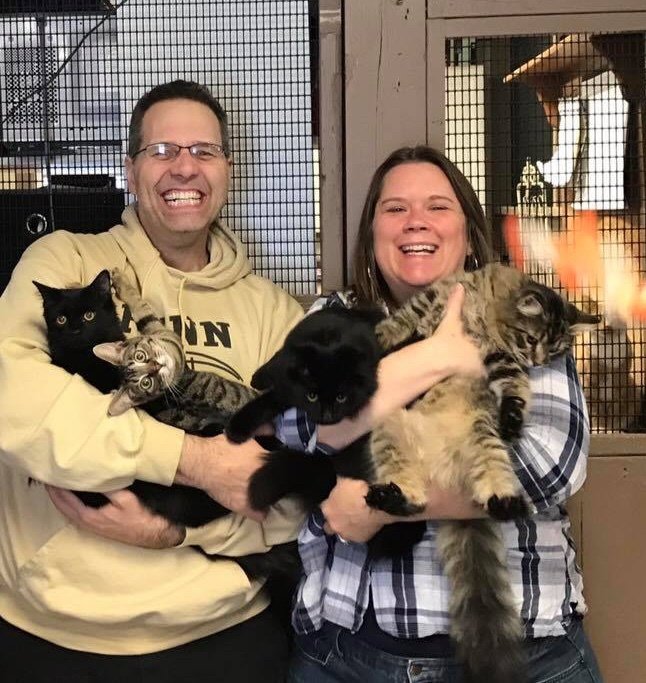 Adoption picture at Here Kitty Kitty RescueHere Kitty Kitty Rescue
Share this story with your friends. Follow Here Kitty Kitty Rescue on Facebook. Follow the kitties and their adventures on Instagram.
Related story: Kitten with Special Needs Clings to Foster Dad After He was Saved from Streets in Unbearable Heat
Original author: Amy Bojo
How do you feel about this post?
Stay Informed
When you subscribe to the blog, we will send you an e-mail when there are new updates on the site so you wouldn't miss them.
Comments
No comments made yet. Be the first to submit a comment