CATStyle Blog
Come on board and write about your funny cat and share your stories with all the other cat lovers.
3 minutes reading time
(562 words)
Couple Went to See Cats and Kittens But Ended Up Being Chosen by This Little Guy
A couple went to look for a new kitty but ended up being chosen by a friendly little guy - he insisted on going home with them.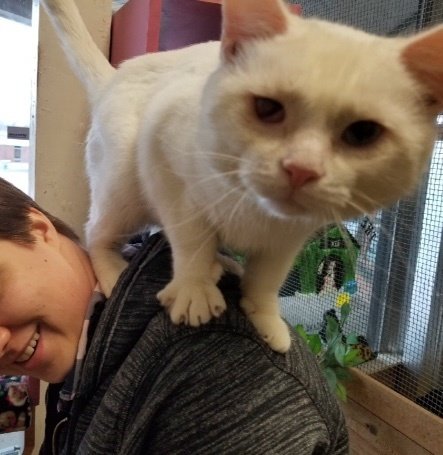 Stephanie J
Stephanie and her boyfriend went to DGI Paws (Dog Gone Inn) in Manlius, New York to adopt a new kitty after they lost their 7-year-old cat, Oliver, to cancer two months ago.

"Our other cat, Toby, is still young and we worried that he needed a companion again," Stephanie told Love Meow. "We took some time to heal and then started looking for a new friend."
The couple decided to visit the cat room at DGI Paws, where most cats and kittens stay. Stephanie's boyfriend went inside to see if any kitty would stick out to him.
"That's when the big white cat started loving all over him and climbed onto his shoulder."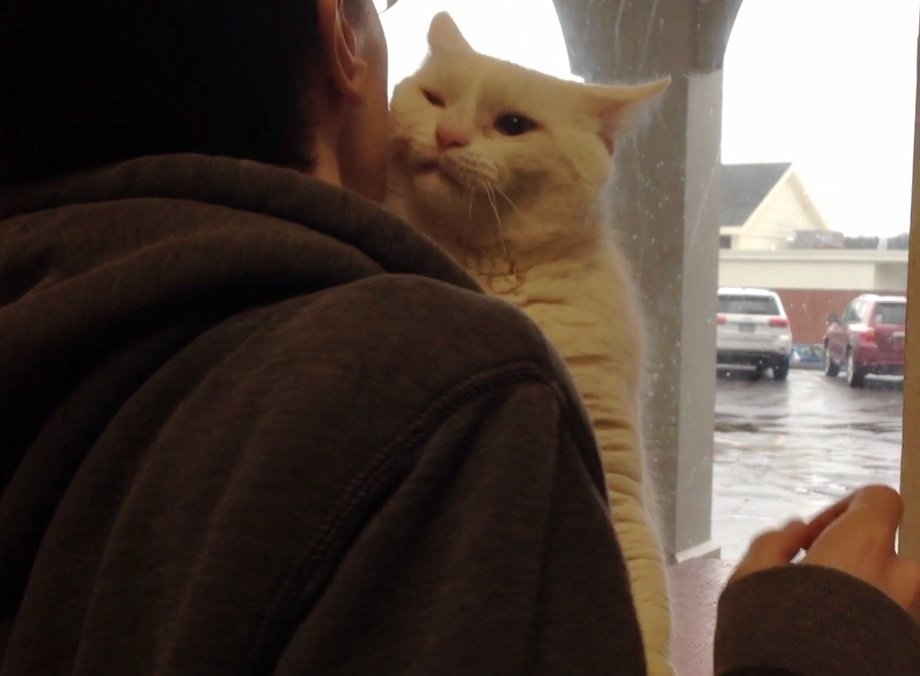 Stephanie J
Stephanie started recording that adorable moment where the kitty threw himself at his human friend, clutched onto him and snuggled up a storm. Once he noticed Stephanie, he climbed over to her shoulders, standing on his tippy toes, kneading and purring away.

"We asked what his name was and found out it was Oliver, just like our recently passed cat. It had to be fate! Our hearts melted and we knew we needed to add him to our family," Stephanie told Love Meow.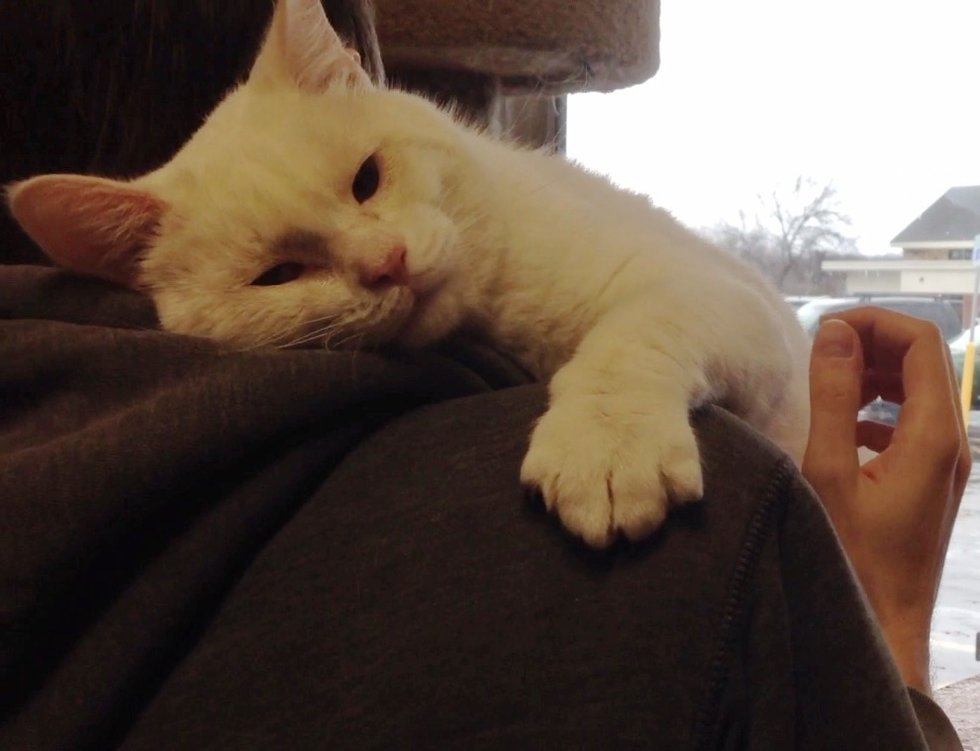 Stephanie J
Watch this beautiful moment in this video:
Stephanie's boyfriend took a day off to help Oliver adjust to his new home. The sweet kitty spent most of his first day hiding but as soon as Stephanie came home from work and called out for him, he came out to greet her.

"He instantly started purring like a motorboat and headbutting both of us. After that he stayed out and hung out with us and some friends. He loved on them just as hard as us."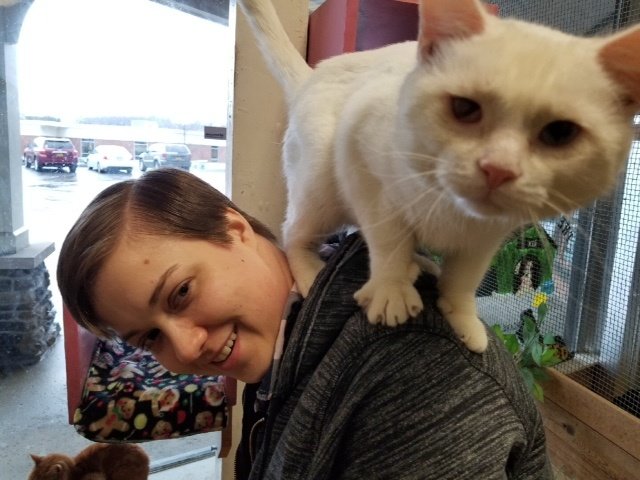 Stephanie J
It took some time for Toby to accept his new feline brother. After some hissing and growling, the ginger cat began to see that Oliver meant no harm. Today, the two friends even gave each other several nose kisses.
Oliver is getting more and more used to his VIP life. Despite occasionally being startled by loud noises or sudden movements, he is coming to realize that this is his home and he will never be given up again.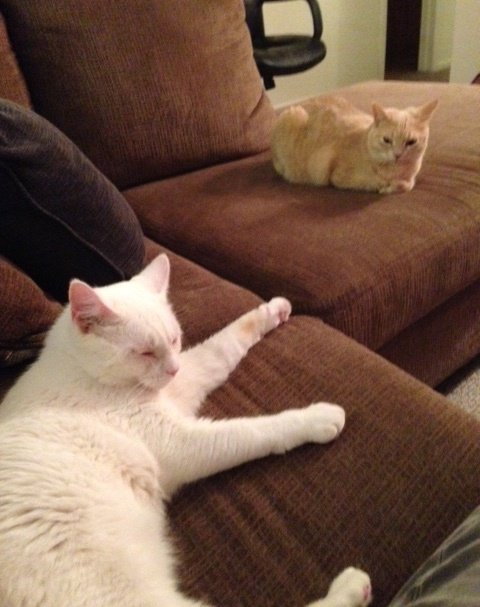 Stephanie J
"We were able to get him to play a bunch which shows he is getting more comfortable and confident in his new home," Stephanie told Love Meow.
Oliver is the most affectionate cat that the couple has ever met. "He is the biggest love-bug. He also talks to us constantly."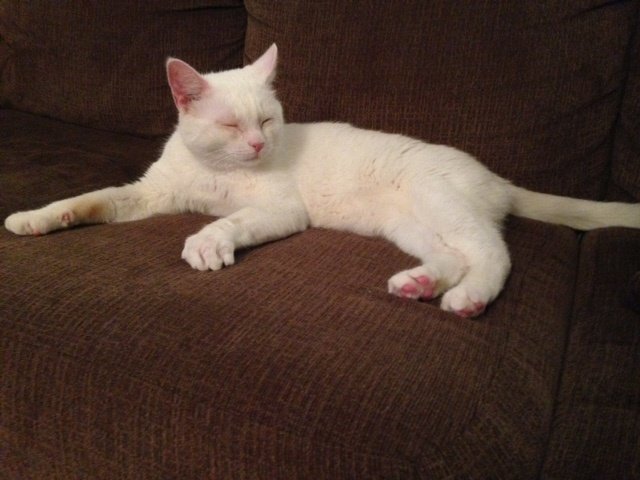 Stephanie J
Oliver is getting medical treatment he needs to get back in prime shape. "We have to give him eye drops, ear drops, and food in his medicine twice a day for the next two weeks."
Despite having some vision issues, he is doing well and continues to improve.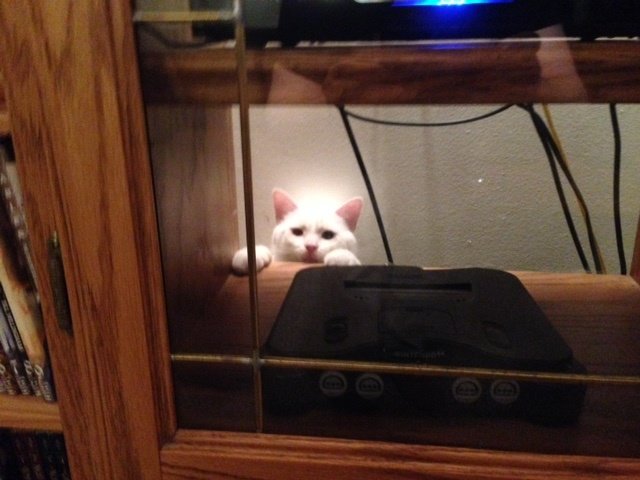 Stephanie J
"Last night we picked him up and put him in bed with us. He climbed under the blankets and would go back and forth between us, throwing his body against us and purring really loud," Stephanie told Love Meow.

"He didn't know whom to cuddle with so he spread the love. It was a really sweet and special moment for us."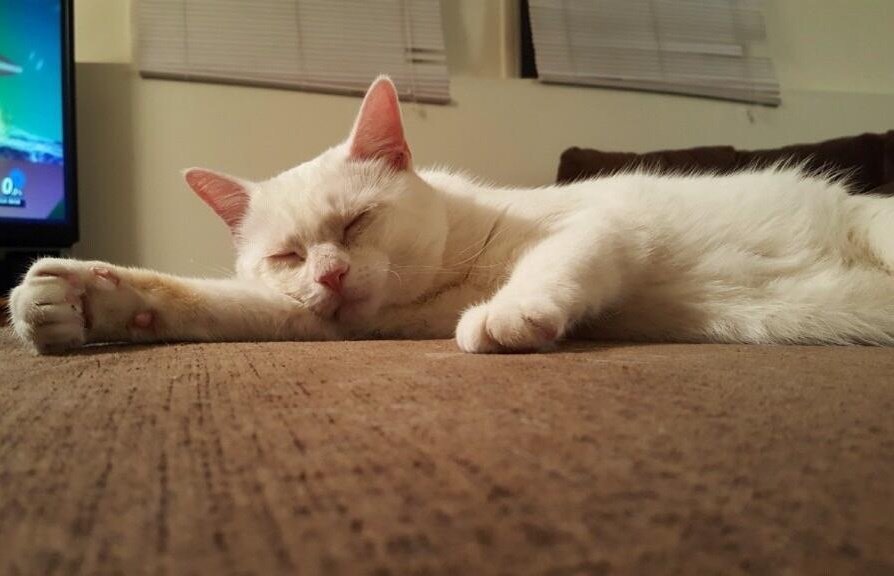 Stephanie J
Share this story with your friends.
Related story: Woman Gives Cat a Home, the Kitty Returns the Favor by Becoming Her Little "Supervisor"
Original author: Amy Bojo
How do you feel about this post?
Stay Informed
When you subscribe to the blog, we will send you an e-mail when there are new updates on the site so you wouldn't miss them.
Comments
No comments made yet. Be the first to submit a comment