CATStyle Blog
Come on board and write about your funny cat and share your stories with all the other cat lovers.
3 minutes reading time
(510 words)
Employee Heard Kitten's Cries and Found Tiny Kitty Outside Their Store
About two weeks ago, a tiny calico kitten was found abandoned in a box in front of a PetSmart in Philadelphia.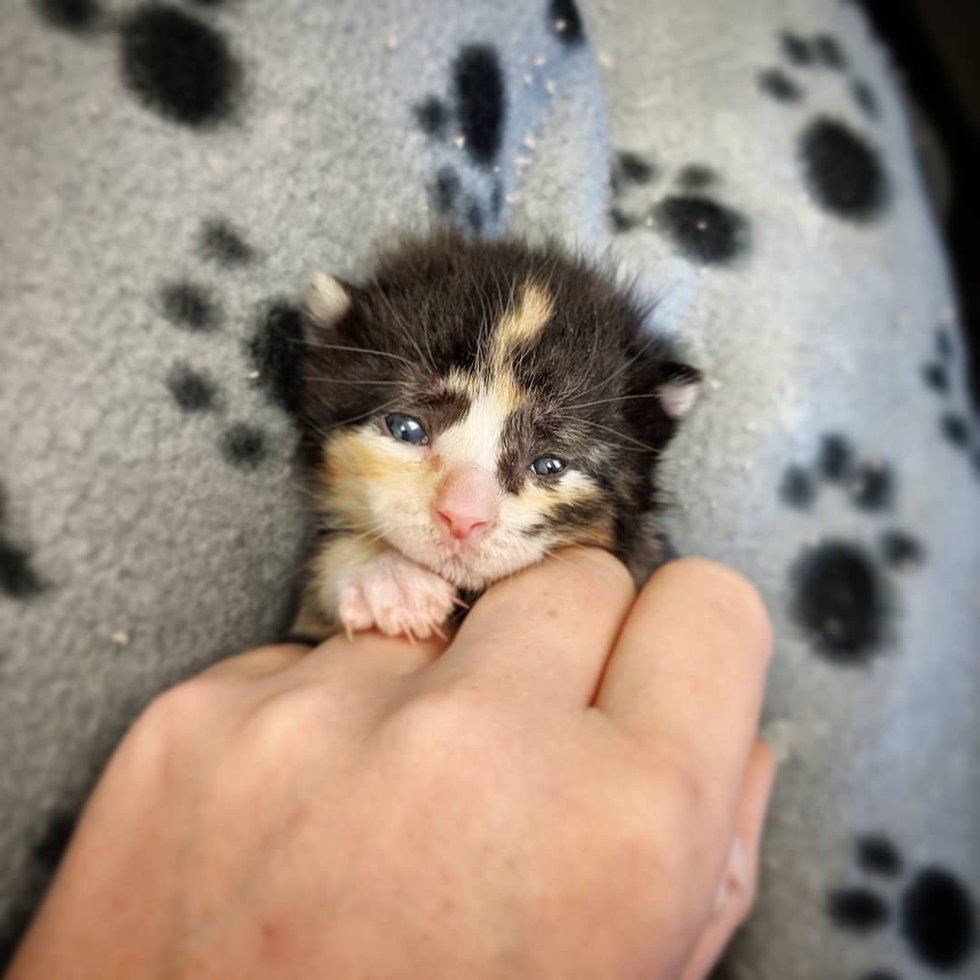 Shauna @ixluvxcats
An employee spotted a box outside their store early in the morning. Upon closer inspection, they found a kitten inside all alone.
They brought her to the Animal Care and Control Team of Philadelphia. The kitty was in desperate need of foster care. Shauna of Noah's Ark Rescue (NARPS Cats in Uwchlan, Pennsylvania) learned about the kitten's plight and immediately offered to help.
"She was found when the store opened so the poor thing was out in the cold all night. It's a wonder she didn't succumb to the elements," Shauna told Love Meow.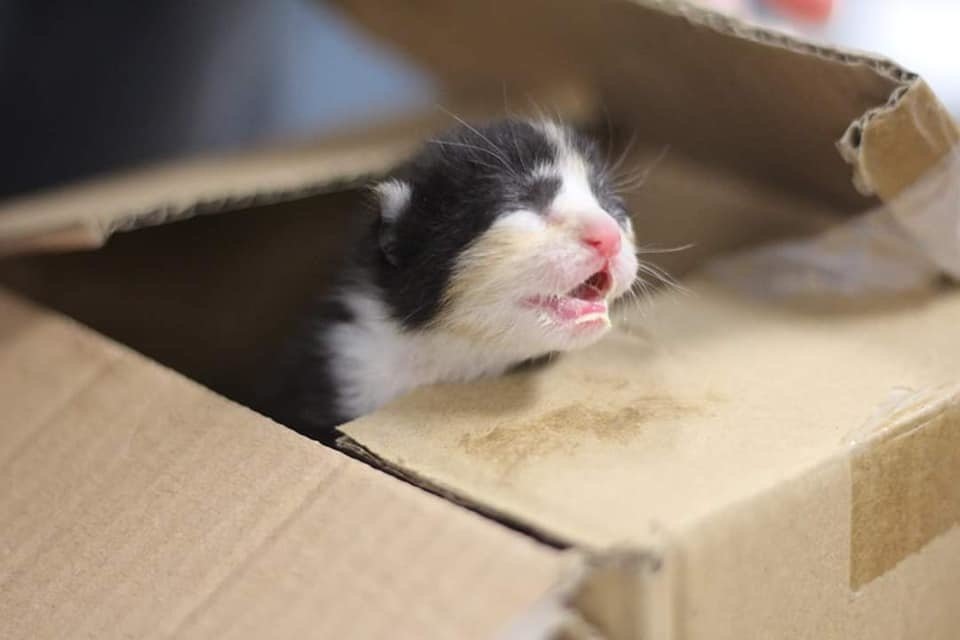 NARPS Cats
The kitten whom they named Apache, was just a few days old. Her eyes hadn't even opened. (Scroll down for video)
"She was 4.7 ounces when I got her," Shauna added. "So tiny but she was loud and energetic right away, which is a great thing for an infant kitten."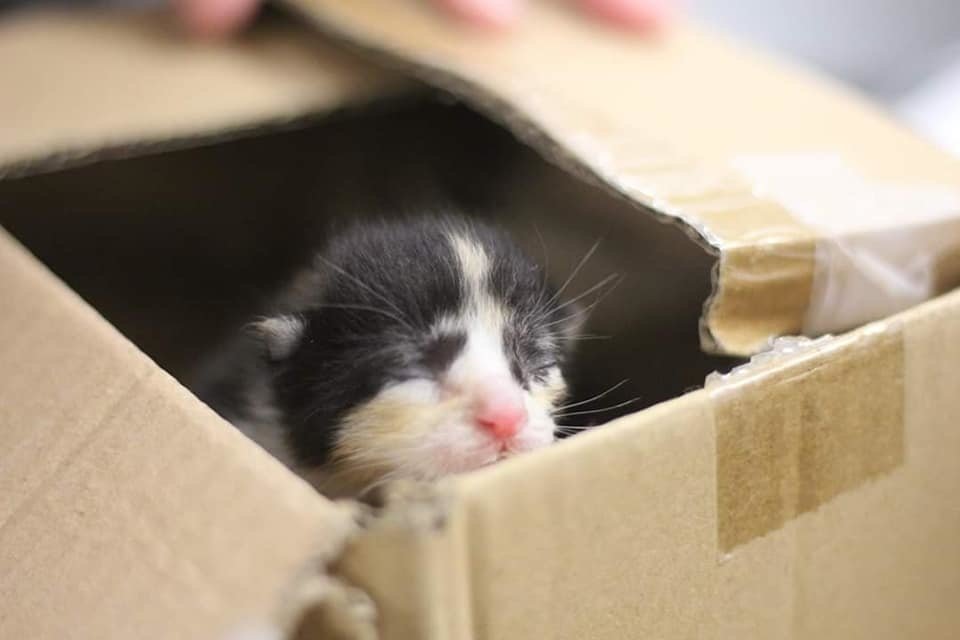 NARPS Cats
When the calico was given a bottle, she latched on right away and started eating. "She loves mealtimes, so she lets me know loudly when she's ready to be fed," Shauna said.
"She was vocal the day I got her, but has definitely gotten more so."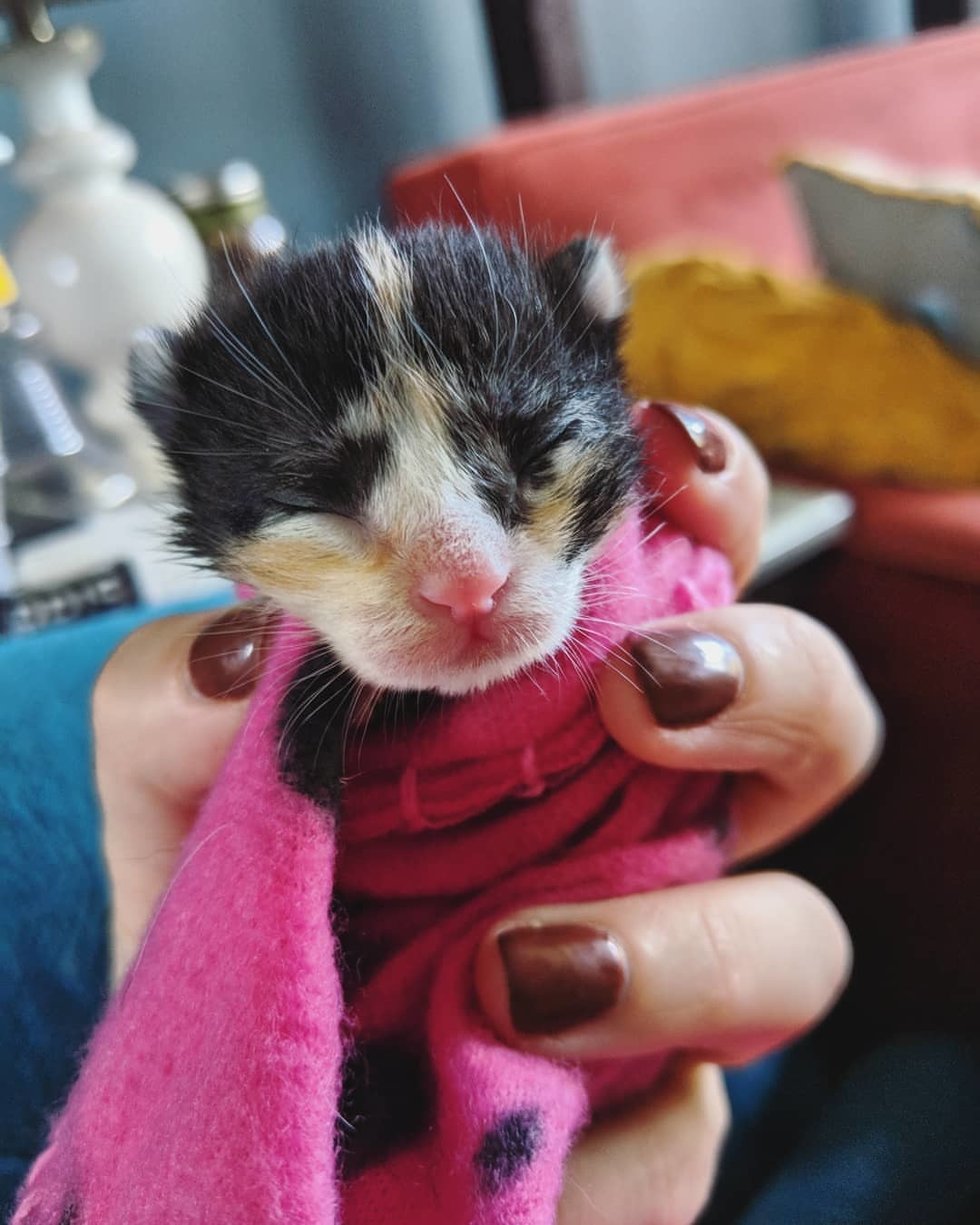 Shauna @ixluvxcats
After getting a full belly, Apache will purr up a storm and fall asleep in her foster mom's hand .
"Many kittens won't start purring until later. But after I fed her the first time, she just started purring."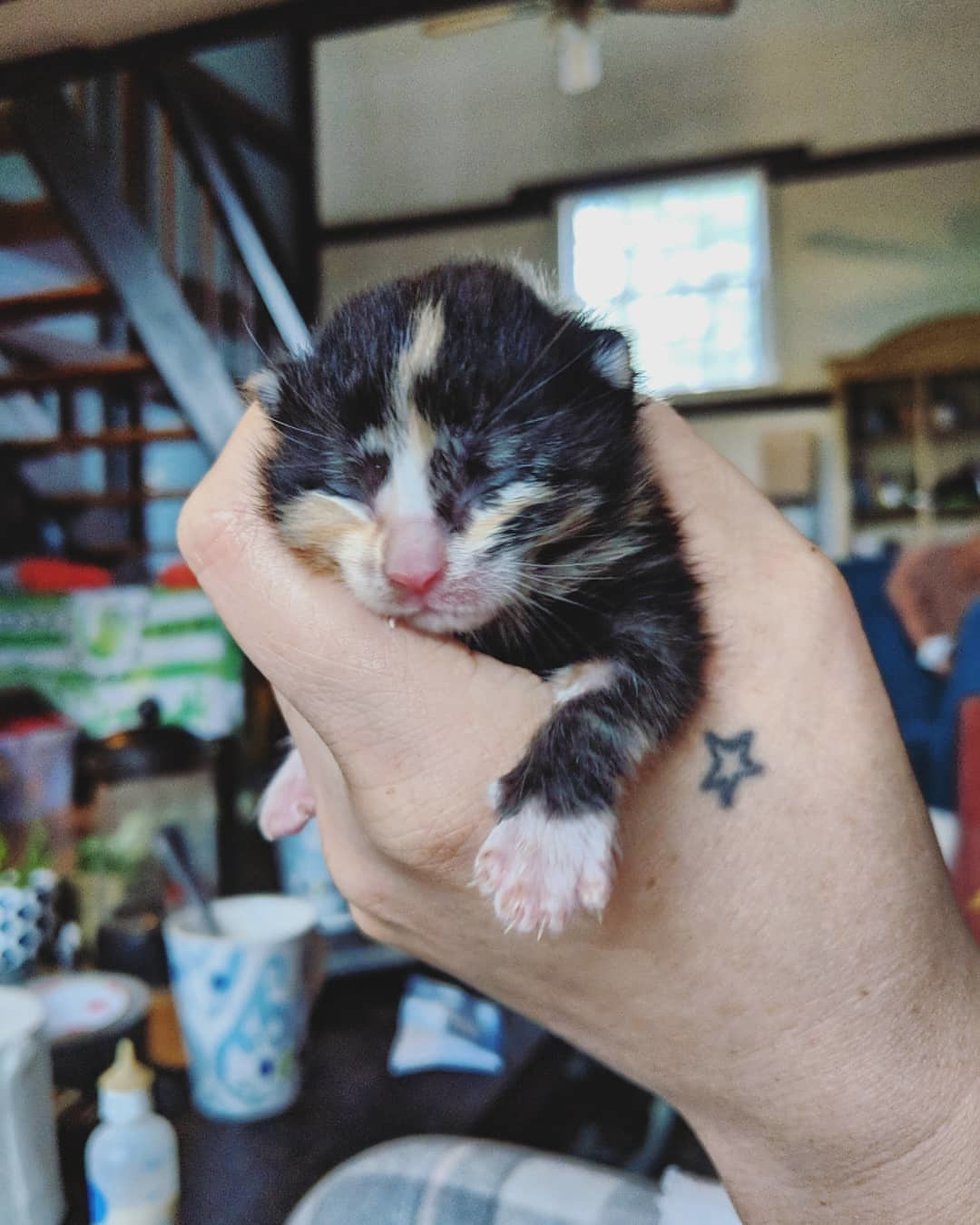 Shauna @ixluvxcats
"We don't know much about where she came from before she was found. But she's very affectionate and has started to learn to groom. She cleans herself and also my hands after she's done eating. It's so sweet."

At 10 days old, the calico girl opened her eyes to see. Around the same time, her ears began unfolding and her ear canals opened.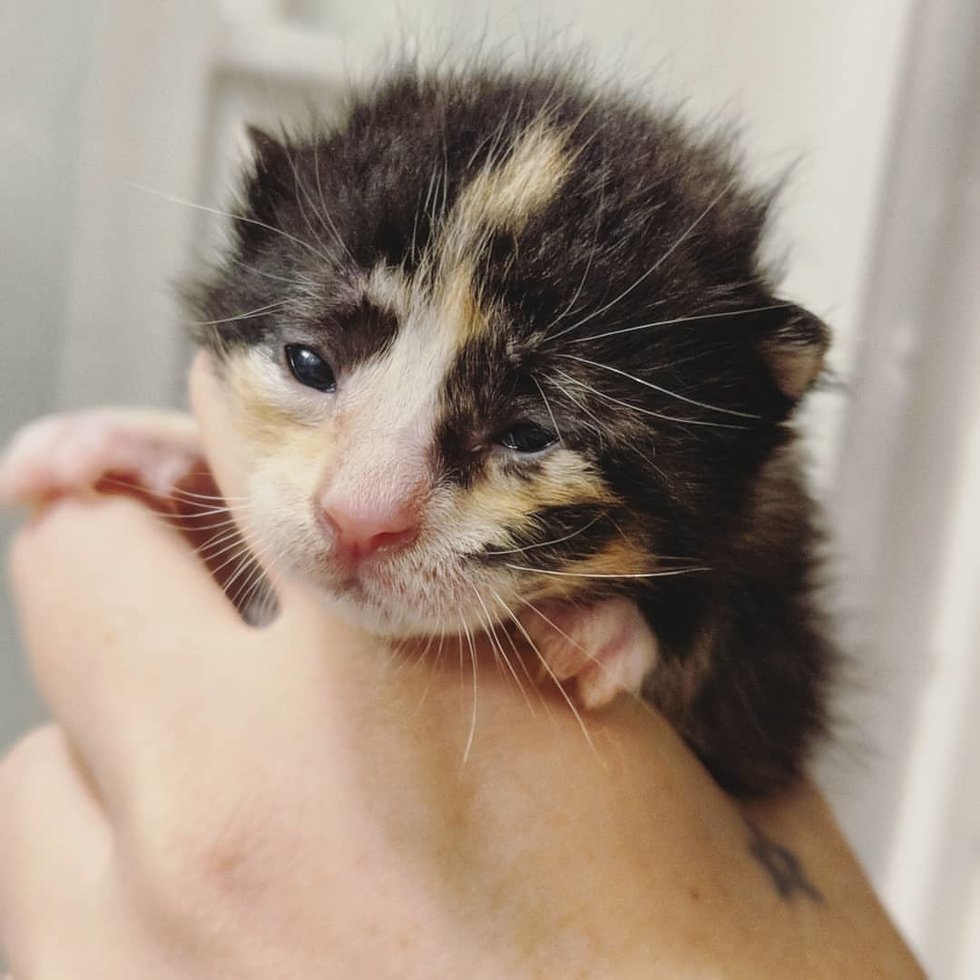 Shauna @ixluvxcats
"Neonatal kittens like Apache need food every two hours, constant heat support and round-the-clock care to survive," NARPS Cats said.

"What should you do if you find infant kittens with no signs of a mother? The first thing to do is wait. Their very best chance of survival is with her. If you need to bring them to a shelter, call them first to make sure they have a program in place for neonatal kittens. You can also reach out to local rescues for resources, support and more options."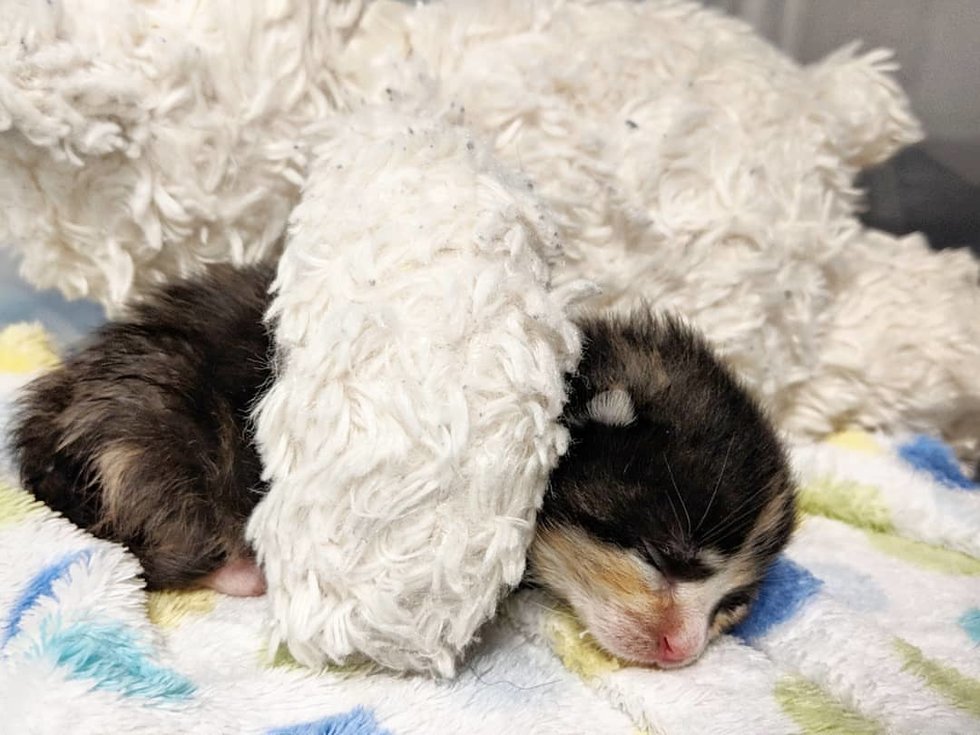 Shauna @ixluvxcats
"Now at three weeks old, Apache's personality is starting to come through. She's becoming more mobile and playful.

"She has already grown out of fitting in the palm of my hand. The little warrior princess has almost tripled in size (4.7oz to 11oz). She loves having her belly rubbed. She goes into a purr frenzy and rolls all around," Shauna said.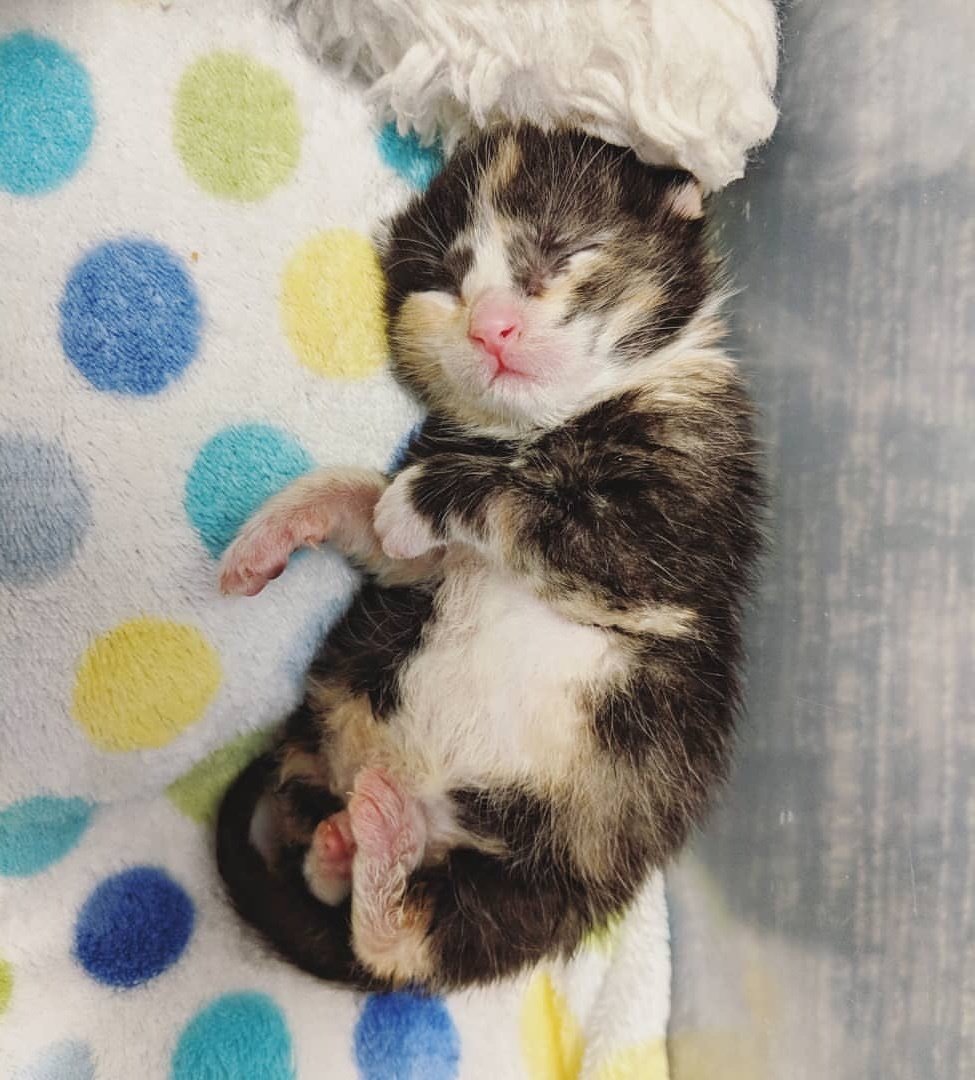 Shauna @ixluvxcats
Apache is thriving in foster care.
"She loves her bottle and is quite the chunky, healthy little baby."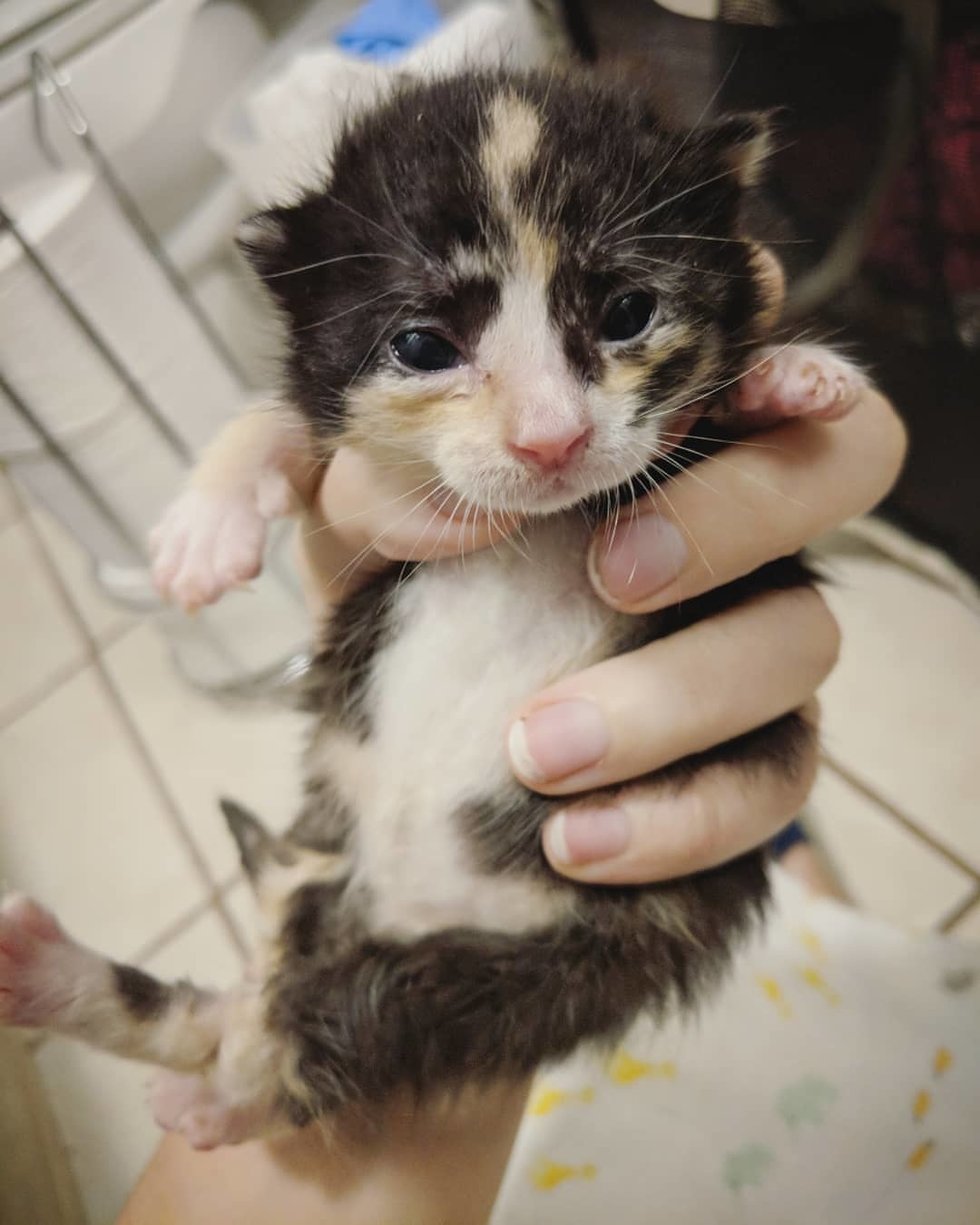 Shauna @ixluvxcats
Follow Shauna's foster kitties on Instagram @ixluvxcats.
Watch little Apache in this cute video:
Share this story with your friends.

Related story: Employee Brings Orphaned Kitten to Work and the Kitty Decides to Offer Everyone "Help"
Original author: Amy Bojo
How do you feel about this post?
Stay Informed
When you subscribe to the blog, we will send you an e-mail when there are new updates on the site so you wouldn't miss them.
Comments
No comments made yet. Be the first to submit a comment