CATStyle Blog
Come on board and write about your funny cat and share your stories with all the other cat lovers.
3 minutes reading time
(557 words)
Introducing VetPet Box for Your Cat
There are a lot of cat themed subscription box services out there and for good reason. What better way to show your cat some love than with a monthly box of treats, toys, and other fun finds for felines (and their pawrents too)!
We're really excited about one that we've just had the opportunity to review called VetPet Box.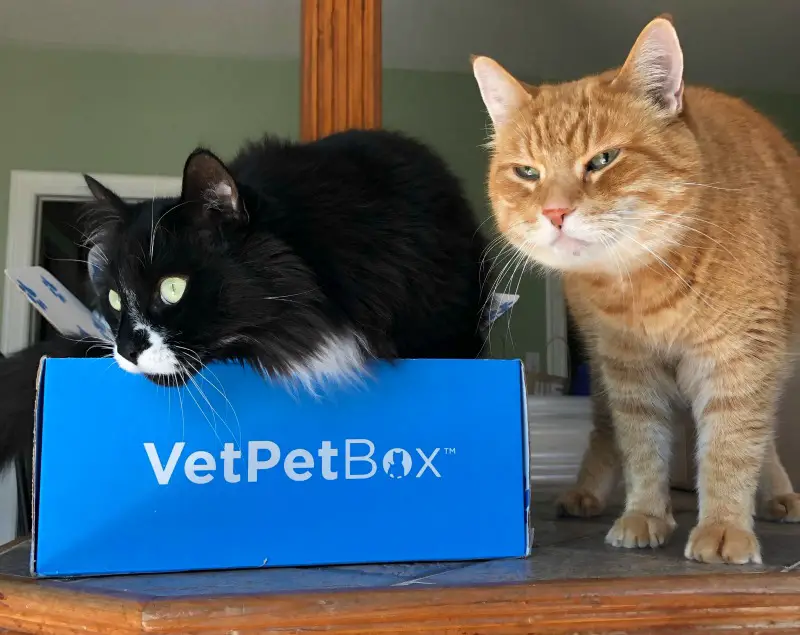 Our quality control team were reluctant to share
Unlike most other cat themed monthly offerings, this is a veterinarian owned and operated subscription box service. Each monthly box is carefully curated by their team of veterinarians and filled with items custom tailored to your cat's profile.
The VetPet team choose premium toys, treats, and wellness products for your cat, based on info you provide when signing up. Educational materials address a new, important and interesting wellness topic each month.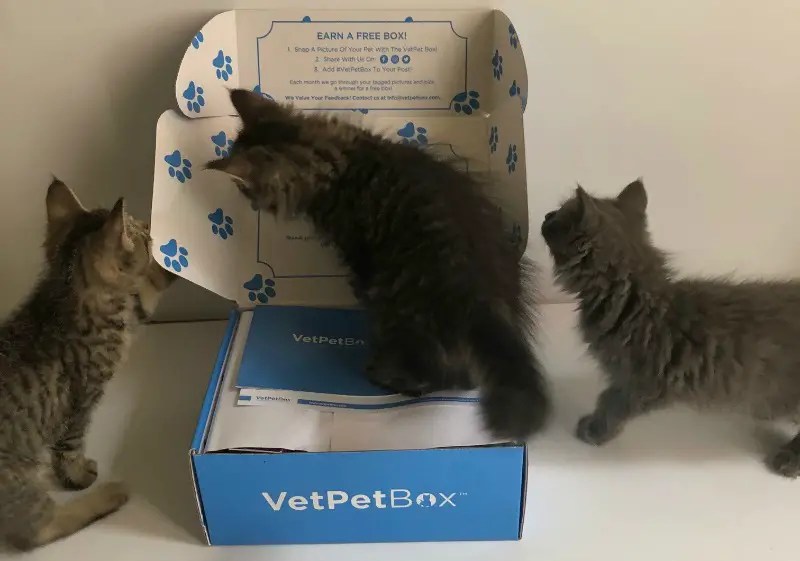 They even offer a customization form to let you update your cat's info. anytime or tell them more about anxieties, arthritis, and more!
Toy Selection
The VetPet team only provide premium toys that are selected with your cat's health and happiness in mind. No upgrades necessary! To learn more about their toy selections click here.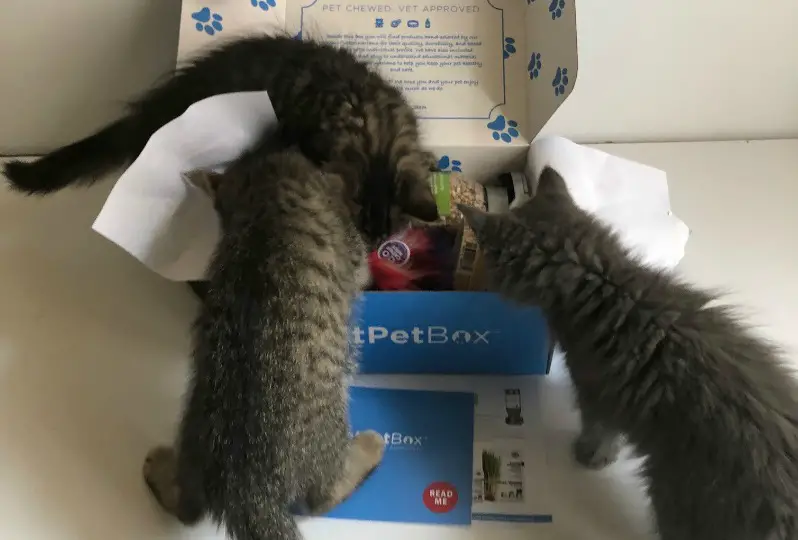 Treat Selection
The treats they provide are all high quality, made in the USA or Canada, and tailored to your cat's allergy profile. To learn more about the VetPet Box treat selections click here.
Wellness Products
VetPet Box introduces you to trusted veterinary wellness products for things like at-home dental care, arthritis, anxiety, and much more. The goal is to help you give your pet the absolute best preventative care possible.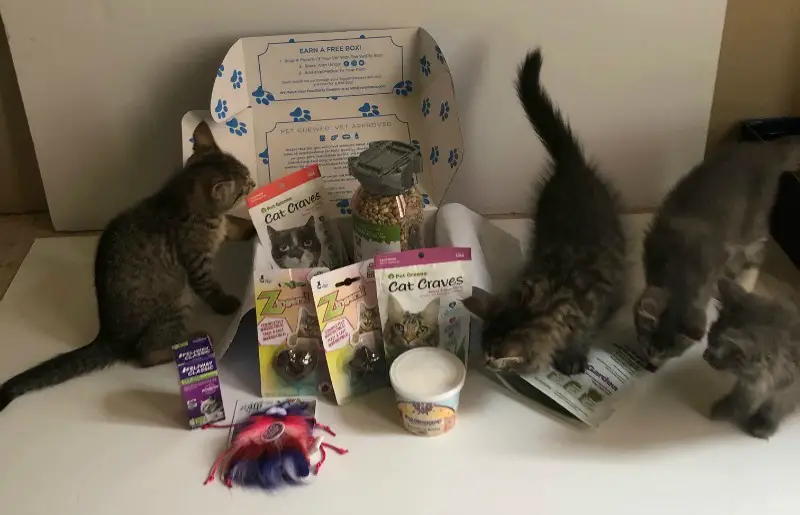 Educational Material
You will also receive monthly educational materials to help you understand and manage your pet's health. The monthly wellness information topics often pair with the wellness product, so you can try the tips and tricks they teach you right away.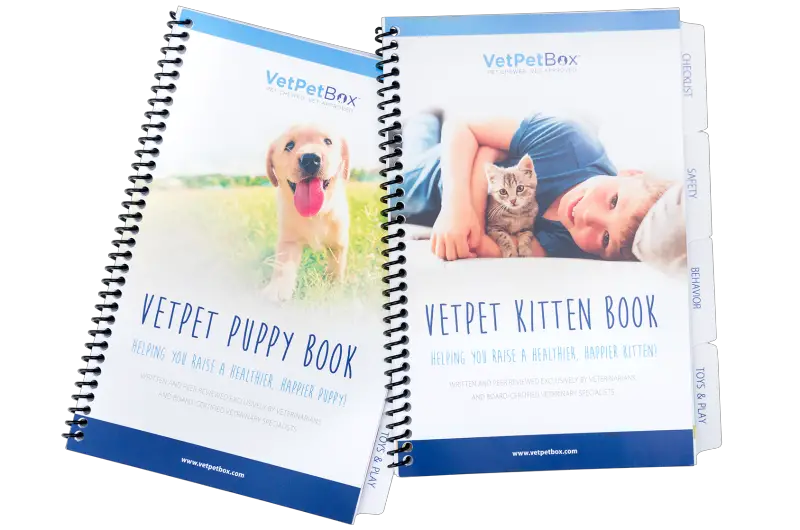 They will also teach you about commonly seen pet health problems, so you can be better equipped to identify symptoms and help your veterinarian get to a diagnosis more efficiently when your cat is ill, often saving precious time and money.
New Customer Orders
New Customer orders ship once a week. All orders placed from Sunday to Saturday are shipped by Tuesday of the following week (excluding holidays). They send you an email as soon as your order has shipped.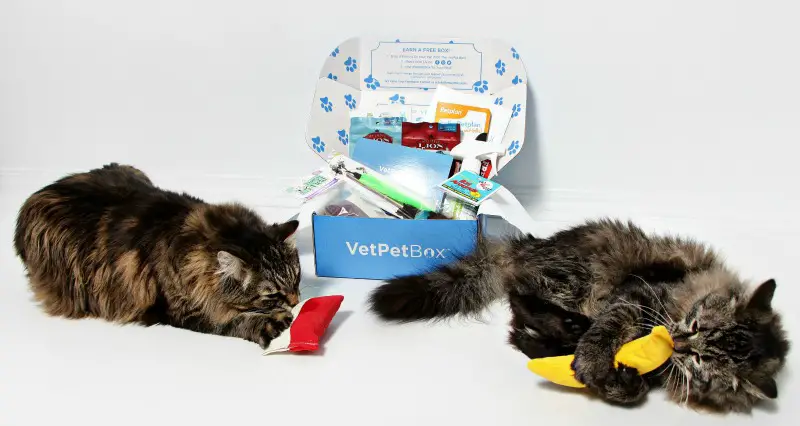 Shipping
Here's some great news – there's free shipping inside the contiguous U.S. and only $5 Shipping to Alaska and Hawaii. Shipping to Canada is $10-$12 (depending on subscription term – 1,3, or 6 month).
Billing and Cancellation
All Subscriptions (except gift subscriptions) auto-renew on or about the 10th of each month. Subscriptions can be cancelled for free at any time from within your customer profile.
* SPECIAL OFFER *
GET YOUR FIRST CAT BOX FOR ONLY $29! Exclusive offer! Subscriptions renew on the 10th of each month for $39. Satisfaction guaranteed.
Summary
Our cats and foster kittens all loved the toys and treats (all of which were thoughtfully curated to promote health and enjoyment). We found the education materials informative and relevant. There was even a clever little bird feeder (with seeds included) which has since attracted numerous Goldfinches and continues to enhance our backyard. Well done team VetPet Box! We rate it a solid two paws up (that's our highest btw)!
Original author: Purringtonpost
How do you feel about this post?
Stay Informed
When you subscribe to the blog, we will send you an e-mail when there are new updates on the site so you wouldn't miss them.
Comments
No comments made yet. Be the first to submit a comment