The creative minds at WizKids just published a delightful new game called Kibble Scuffle, a fun card game in which players feed mischievous and playful cats!

In Kibble Scuffle, it's time to feed your cats! Players compete to feed their cats the most points in food cubes by the end of the game. There are several different kinds of feline friends to feed in Kibble Scuffle—from the generous Mama Cat, who allows another cat at the bowl to feed, to the mischievous Trickster Cat, who exchanges food cubes between bowls.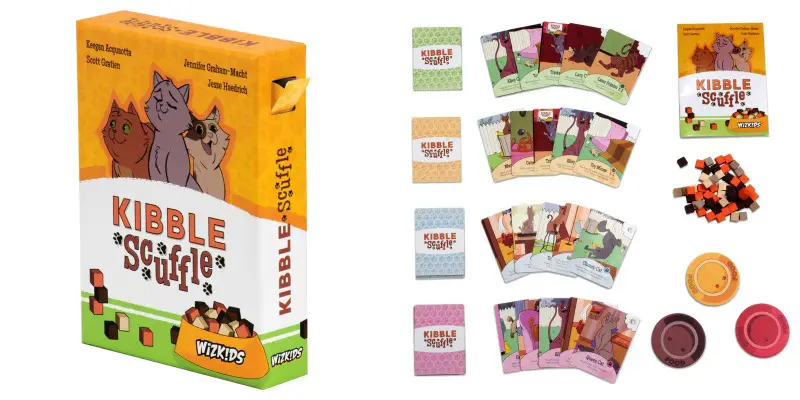 The game even features four adorable Kittens, who draw their fellow kittens to the Food Bowls. Kibble Scuffle's innovative packaging doesn't just hold the game—the box also doubles as the game's Cat Food Box, allowing players to have the most immersive feline feeding experience possible!
Kibble Scuffle is a tactical card game of area control to try to get the best food for your feline friends. With cards like the Robo-Vac and Laser Pointer, you can use toys to strategically distract your opponent's cats. Using the game box as a cat food box to store the food cubes, players take turns placing their cats and resolving their abilities.
Once a player reaches 20 points, the player with the most value of food cubes eaten at the end of the feeding phase wins.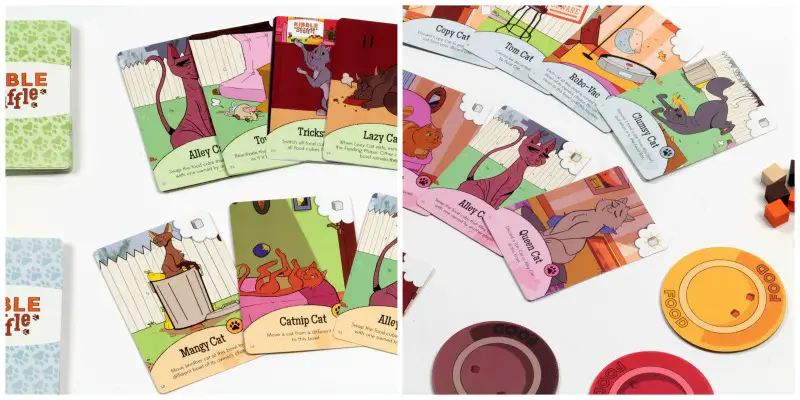 We're delighted to offer 5 copies of Kibble Scuffle for five lucky Purrington Post readers to WIN!
* Contest Details
This contest ends on July 10th, 2019 and is available to U.S. residents only. To enter you simply need to submit a comment in our "Leave a Reply" section at the bottom of this page saying:
My cat's name is [insert your cat's name] and he/she thinks we deserve to win a Kibble Scuffle board game because [insert your cat's reason]
The 5 winners will be chosen by the WizKids team from all the correctly submitted entries, and contacted by email on or around July 12th, 2019.
Be creative, have fun and good luck … may the kibble fall where it may!
Game Details
Release date July 24/2019
Ages 14+
2-4 Players
MSRP $19.99
Designers are Keegan Acquaotta, Jennifer Graham-Macht, Scott Gratien, and Jesse Haedrich
Buy it: Kibble Scuffle is available for purchase on Amazon here => Kibble Scuffle