CATStyle Blog
Come on board and write about your funny cat and share your stories with all the other cat lovers.
3 minutes reading time
(684 words)
Kitten Showed Up in Backyard and Found Canine Friend to Keep Her Company
A kitten showed up in a backyard all alone and found a canine friend to keep her company.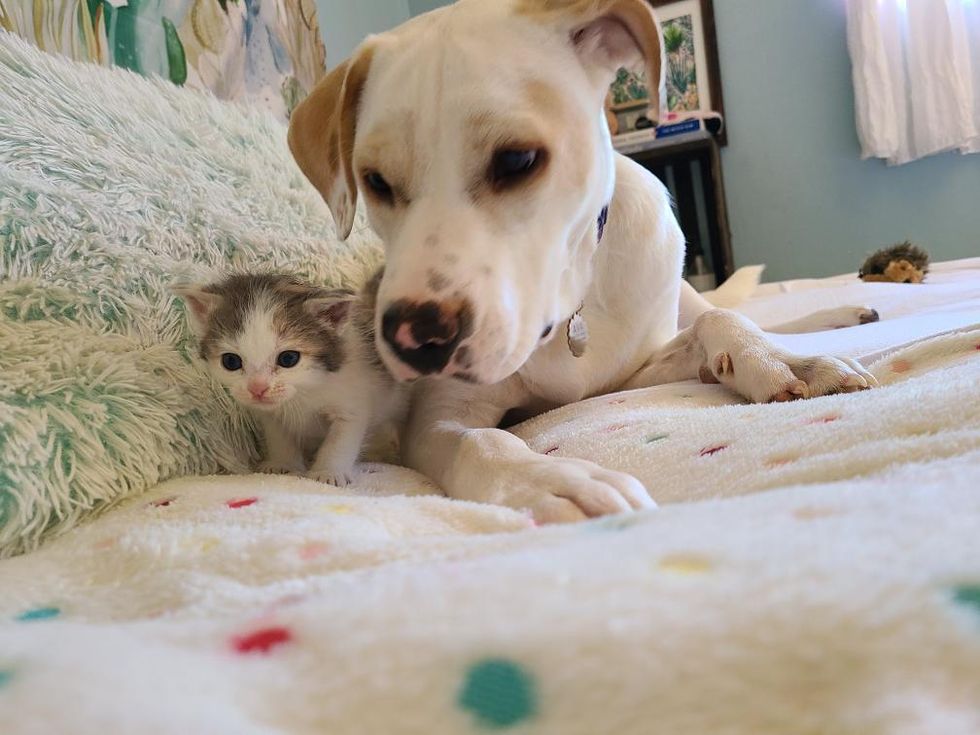 Addie the kitten and Ava the dogJin's Bottle Babies
A resident from Phoenix, Arizona was caring for community cats when she spotted a tiny kitten in her backyard without a mother in sight.
She waited for a long time, hoping the cat mom would come back to her baby, but she never did. The kind lady took the kitten in and reached out to her local rescue Jin's Bottle Babies for help.

"She was so worried about the kitten's constant crying and brought her to us," Shelbi Uyehara, founder of Jin's Bottle Babies, told Love Meow. "The kitten was chilled, covered in fleas, and about a third of the weight of what she should have been."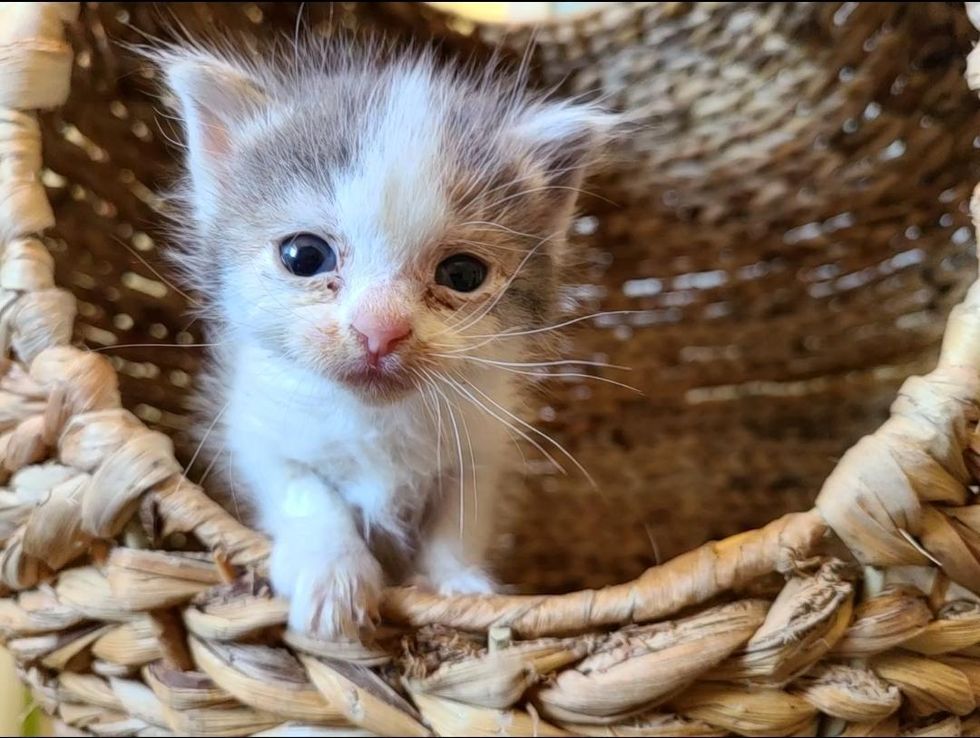 Addie the kitten was found in a backyardJin's Bottle Babies
The kitten was severely anemic and malnourished. At 3-4 weeks old, she was just the size of a one-week-old kitty.

They got her all cleaned up and warm in her cozy new bed. Shelbi began tube-feeding the kitten around the clock until she had enough strength to eat on her own. With the right medication and plenty of TLC, the little girl named Addie perked up and started to grow.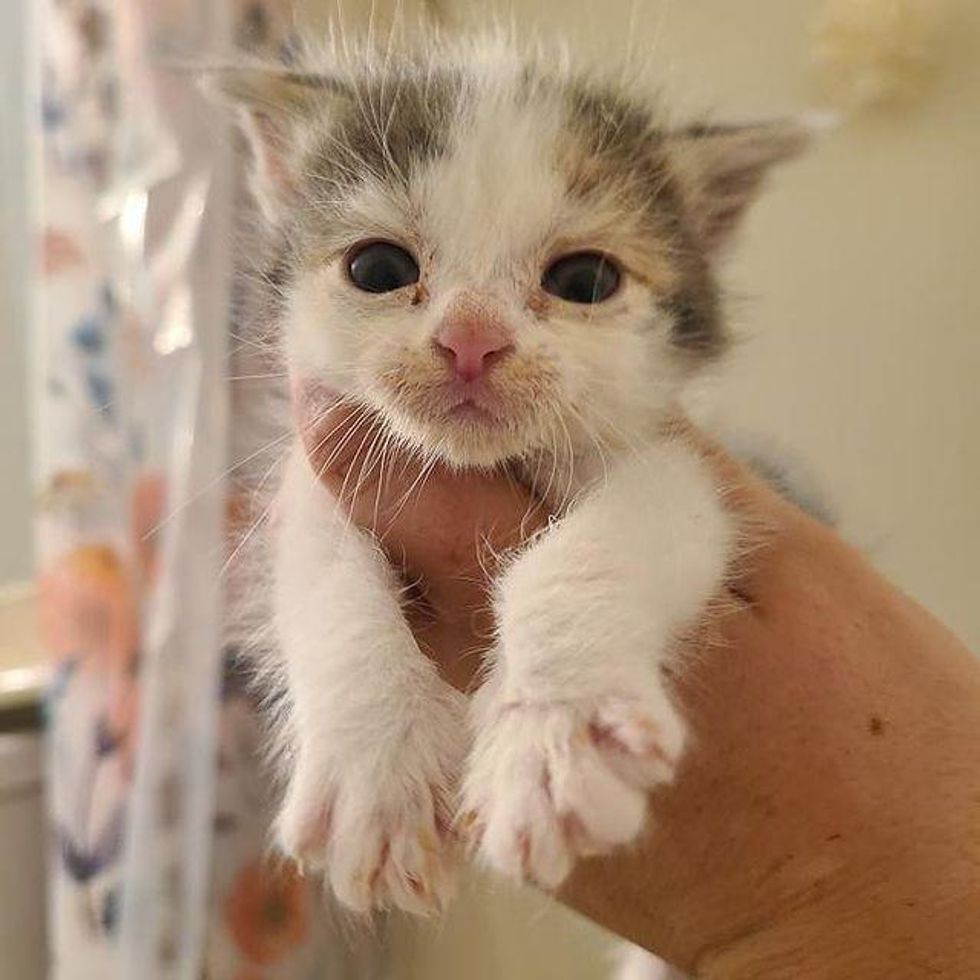 She was very tinyJin's Bottle Babies
Shelbi's dog Ava who has a soft spot for kittens in need, came to offer a helping paw. Whenever Ava heard the kitten's meow, she came running and happily kitten-sat the baby all day long.

She watched her tiny feline friend attentively as Addie started to figure out how to waddle and play.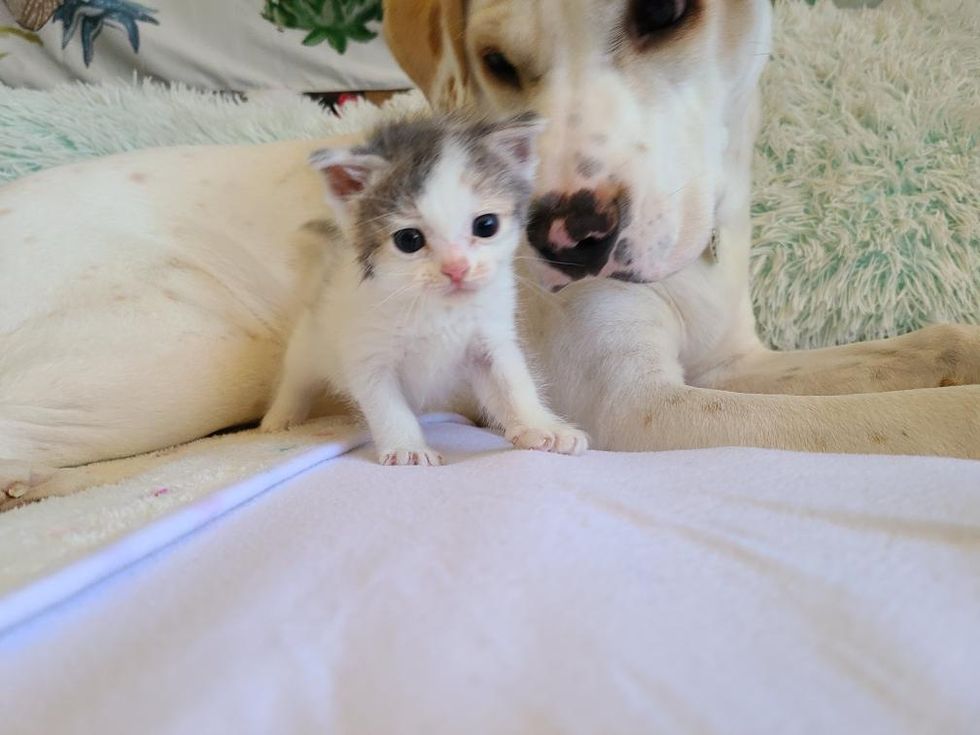 Ava the pup loves her foster kittenJin's Bottle Babies
"My doggie comes in and drops some toys (for the kitten) occasionally, so Addie doesn't get bored," Shelbi told Love Meow. "It's so cute to see the kitten play with the toys Ava brings her."

Ava the pup was a rescue herself when she found Shelbi and quickly crept her way into her heart. She's been a big help every time Shelbi brings home new fosters. "Ava loves feline babies, and gives them kisses and gets very worried when they're crying."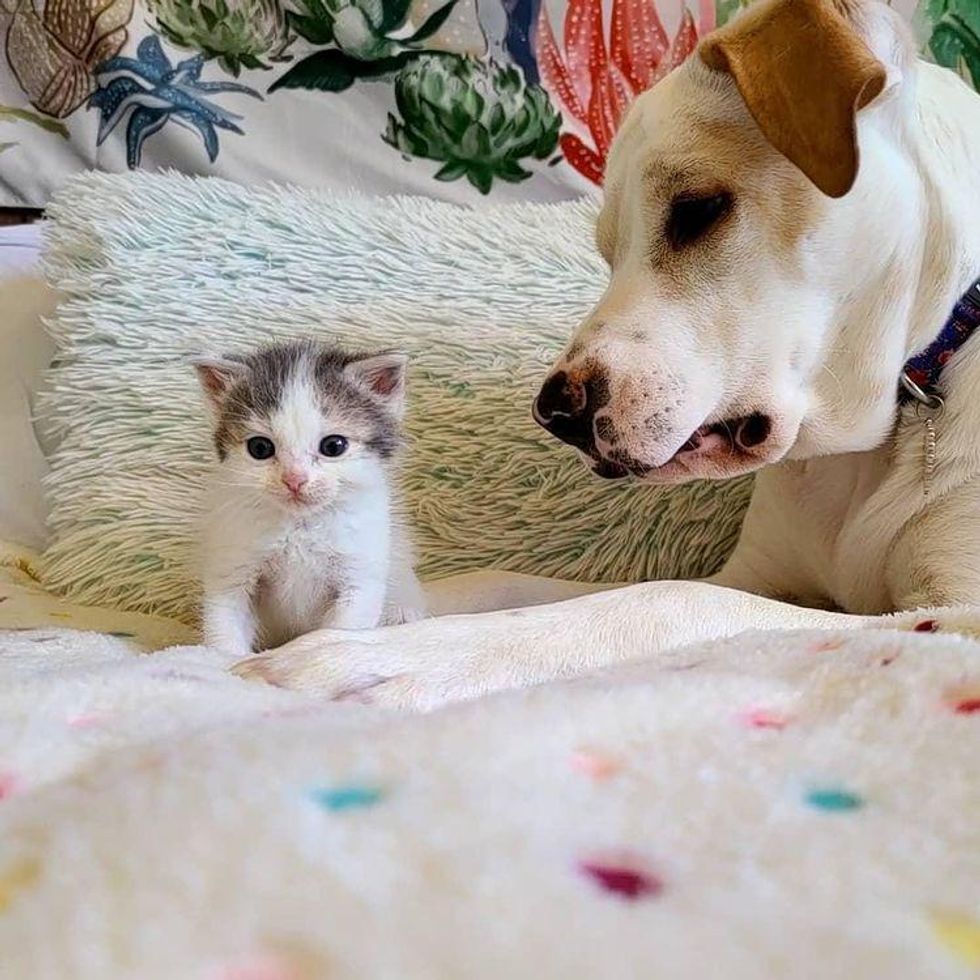 Jin's Bottle Babies
Now, when Addie goes on an expedition, checking out her surroundings, Ava insists on keeping a watchful eye on her. She makes sure that the calico doesn't wander off too far.
The sweet canine grooms the kitten and is so gentle and loving. "Addie really loves my dog. I think she's going to be the ultimate queen cat," Shelbi added.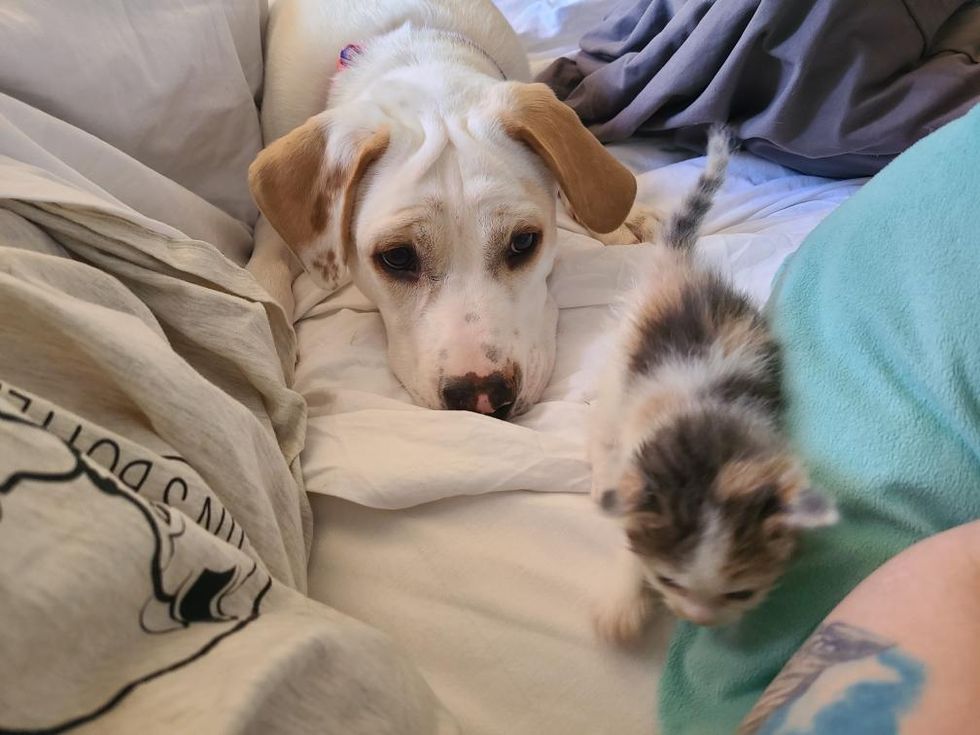 Ava watches over her beloved foster kittenJin's Bottle Babies
In just a few days, the kitten has really filled out and gained so much energy. She's eating like a champ and loving her new life as an indoor cat.

"Addie is so cute and feisty but super sweet. She loves the life of cozy blankets and being pet, and loves when you sit in with her," Shelbi shared with Love Meow. "She is starting to play a lot, and just learning how to kitten and cat."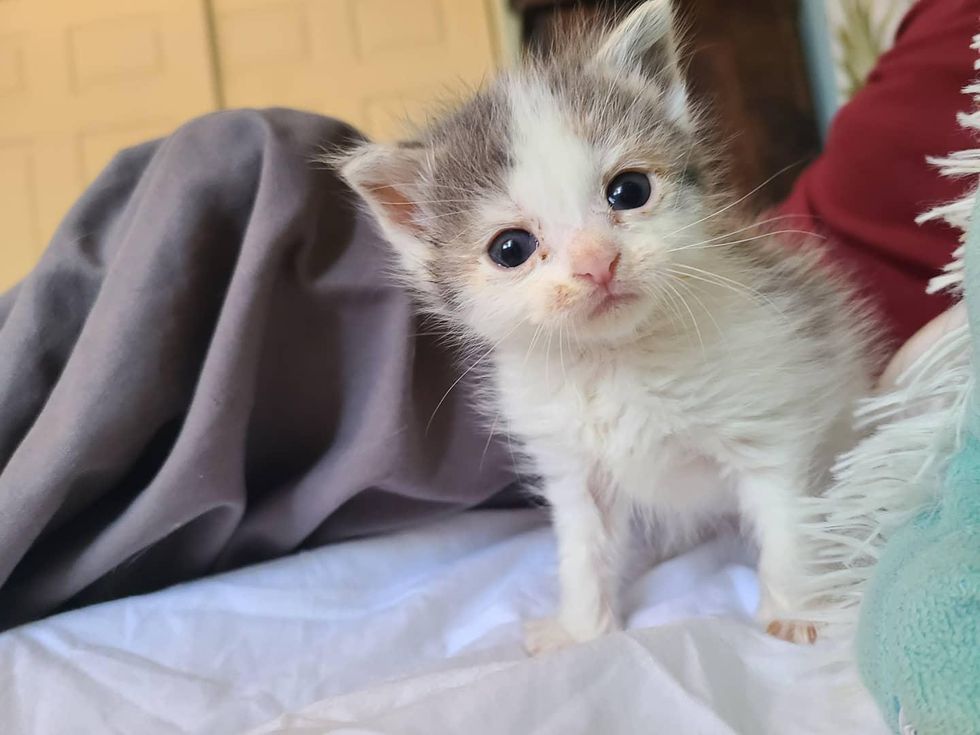 Jin's Bottle Babies
The little singleton will soon be joining other foster kittens, so she can have friends her size to play and wrestle with.
Ava has done a wonderful job assisting Shelbi in caring for Addie. The doting canine is always ready to help whoever comes through the door.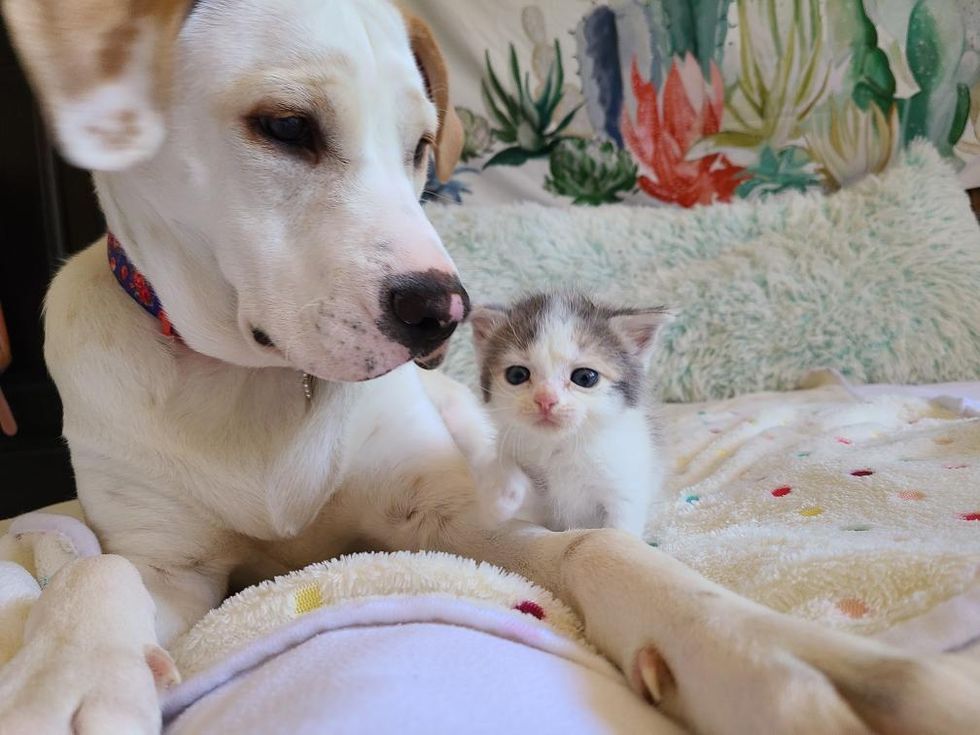 Ava and AddieJin's Bottle Babies
Rescuers from Jin's Bottle Babies went back to the neighborhood where Addie was found, to help the community cats and get them all vetted and spayed and neutered.
"So no more babies will be born out there and to be infested with fleas ever again."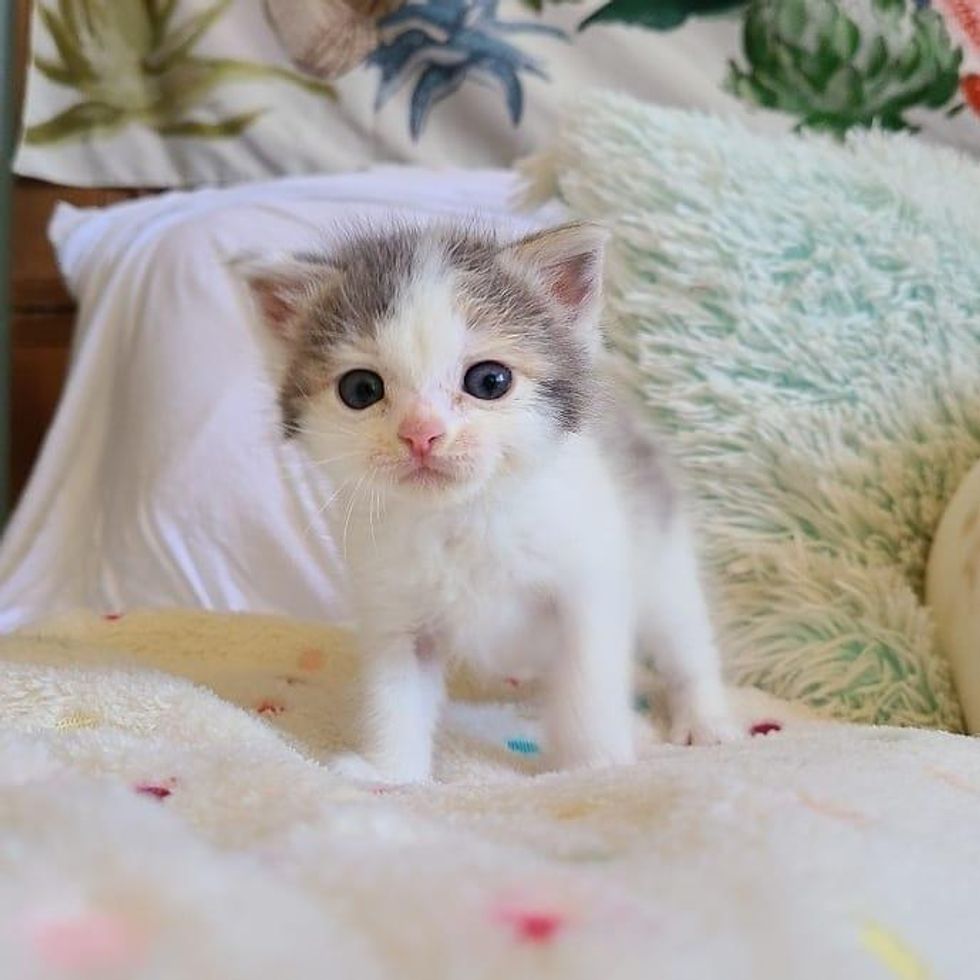 Jin's Bottle Babies
Addie is thriving as she is in constant good company. Ava is never far from the kitten, just in case her feline buddy needs another toy or somebody to play with.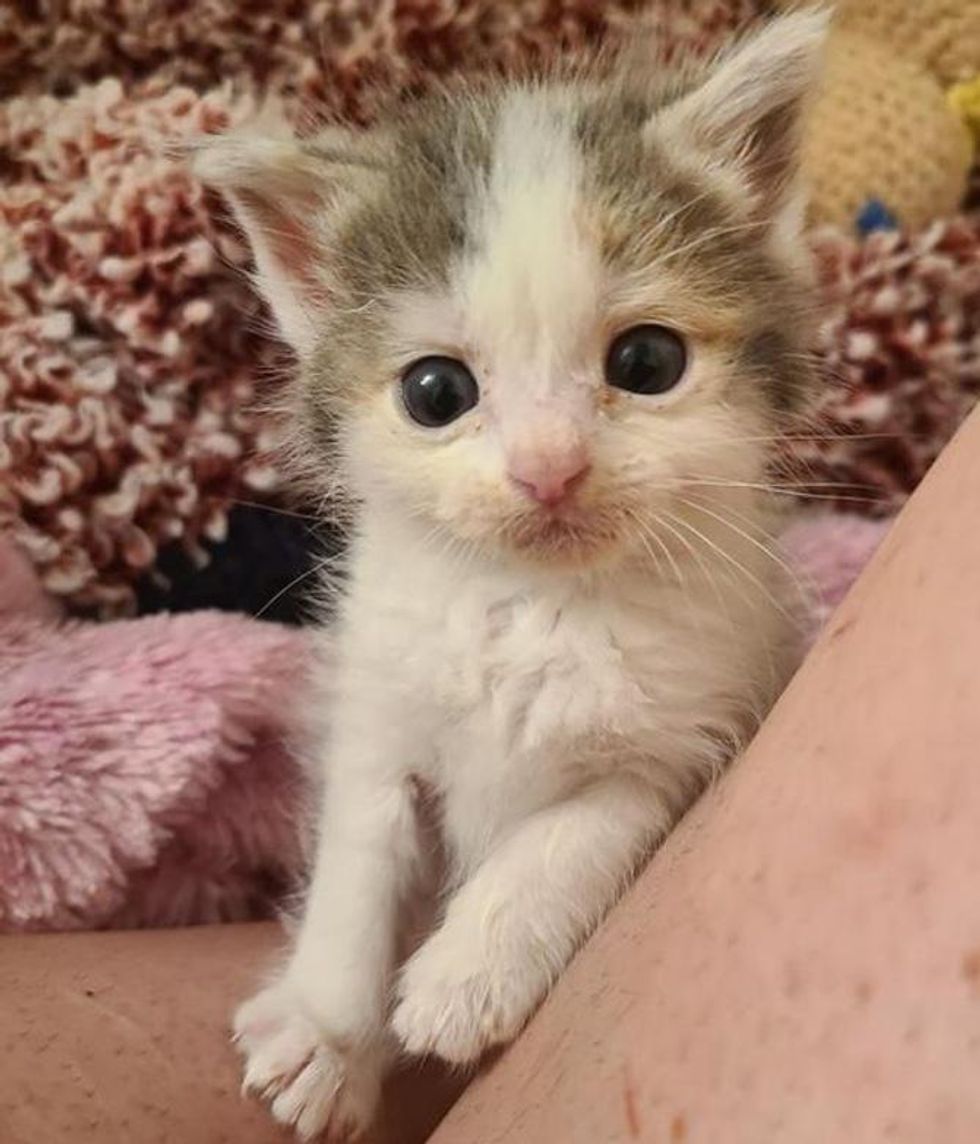 Jin's Bottle Babies
Share this story with your friends. Follow Jin's Bottle Babies on Facebook and Instagram.
Related story: Kitten Sneaks Out of Her Room to Befriend New Kitten in Foster Home
Original author: Amy Bojo
How do you feel about this post?
Stay Informed
When you subscribe to the blog, we will send you an e-mail when there are new updates on the site so you wouldn't miss them.
Comments
No comments made yet. Be the first to submit a comment