CATStyle Blog
Come on board and write about your funny cat and share your stories with all the other cat lovers.
3 minutes reading time
(612 words)
Kitten with One Eye Cuddles Everyone Around Her After She was Rescued from Uncertain Fate
A kitten named Hope was pulled from a shelter in the nick of time. She lost one eye but found a penchant for cuddles.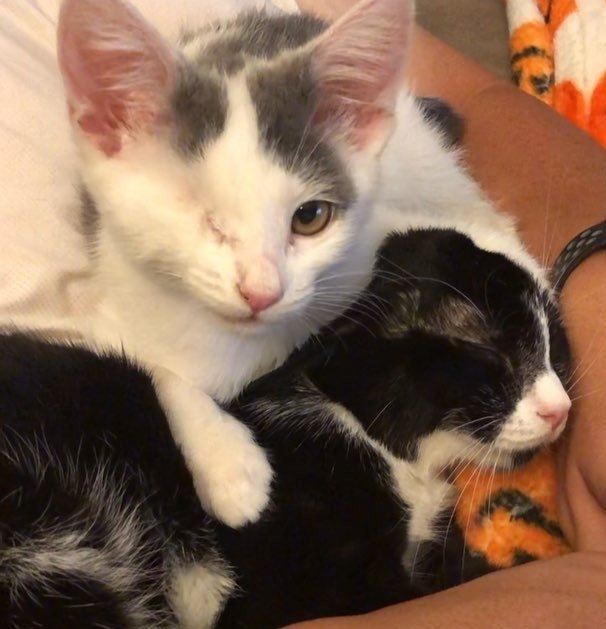 Emily @loveyourferalfelines
Three months ago, Love Your Feral Felines (based in North San Diego County, California) rescued Hope and another kitten, Faith, from a shelter that couldn't keep them. They were just skin and bones. Hope, the smaller of the two, had a severely infected eye.

Emily Jensen, a foster volunteer, immediately offered to help the sister duo. "I couldn't believe how tiny they were. They were covered in fleas and filth, but tolerated baths as well as could be expected," Emily told Love Meow. "Even though we figured the eye was beyond saving, we gave her medication daily."
Hope wasn't ready for her eye surgery until she reached two pounds. The little ball of fur had a lot of growing to do.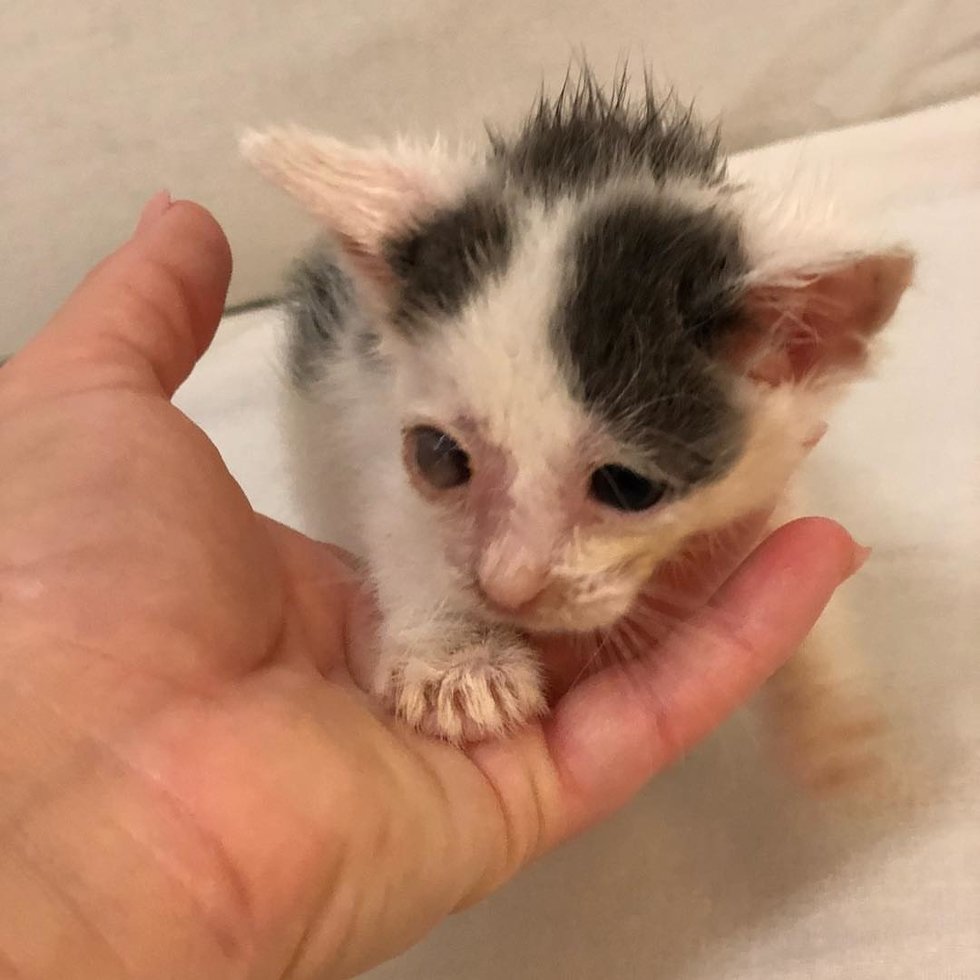 Hope reminded Emily of her previous rescued kitten, Googly Bear, who also had one bad eye. Emily @loveyourferalfelines
One week later, the kittens were scampering around the house, playing and jumping with unbridled energy and demanding attention from their foster parents. "They love to run around outside of their pen. It's like they are at Disneyland."

The couple continued to clean and treat Hope's eye to prevent any secondary infection. A few weeks later, her bad eye ruptured while playing with her sister. She was taken to an emergency veterinary hospital where the vet recommended enucleation (eye removal) as soon as possible.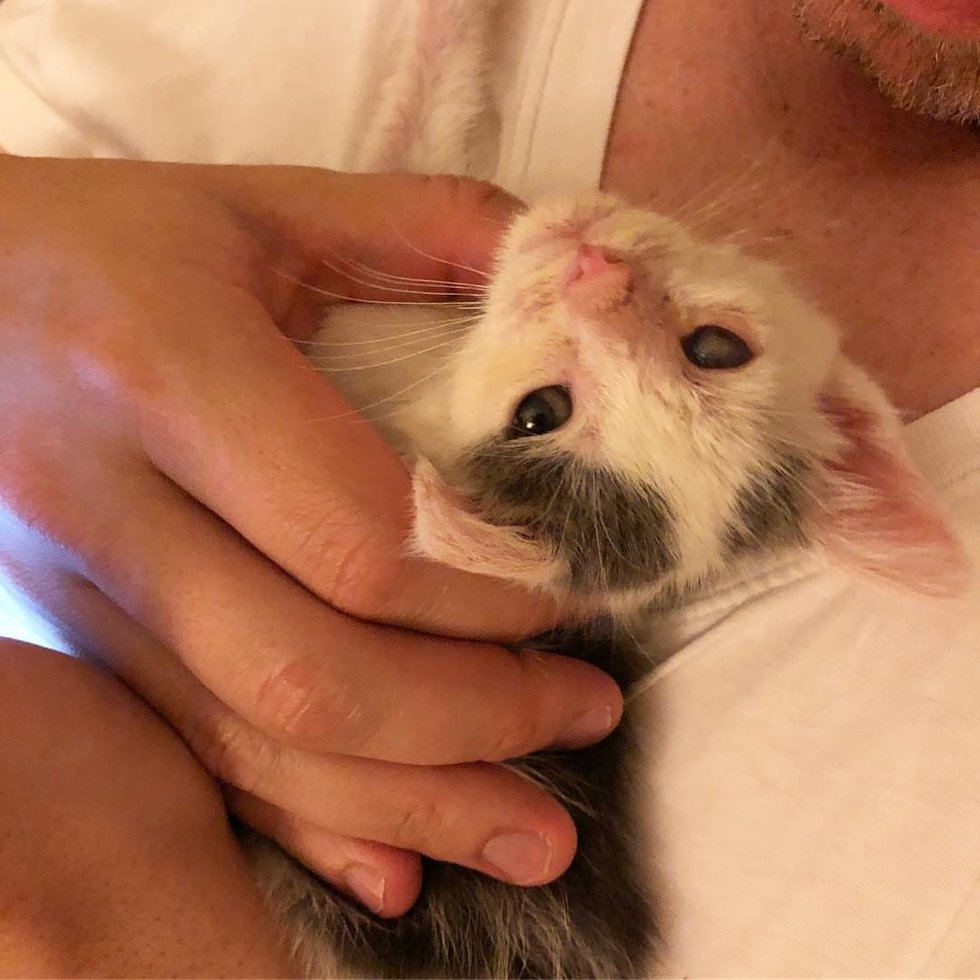 Emily @loveyourferalfelines
Hope was still very tiny, weighing only 18 ounces. After discussing with the rescue group and the veterinary team, they decided on the best option for the kitten - the surgery. "Trying to concentrate that day was very difficult. We didn't know if we could handle a bad outcome," Emily said.
"Thankfully, she is strong and a fighter. The surgery went very well."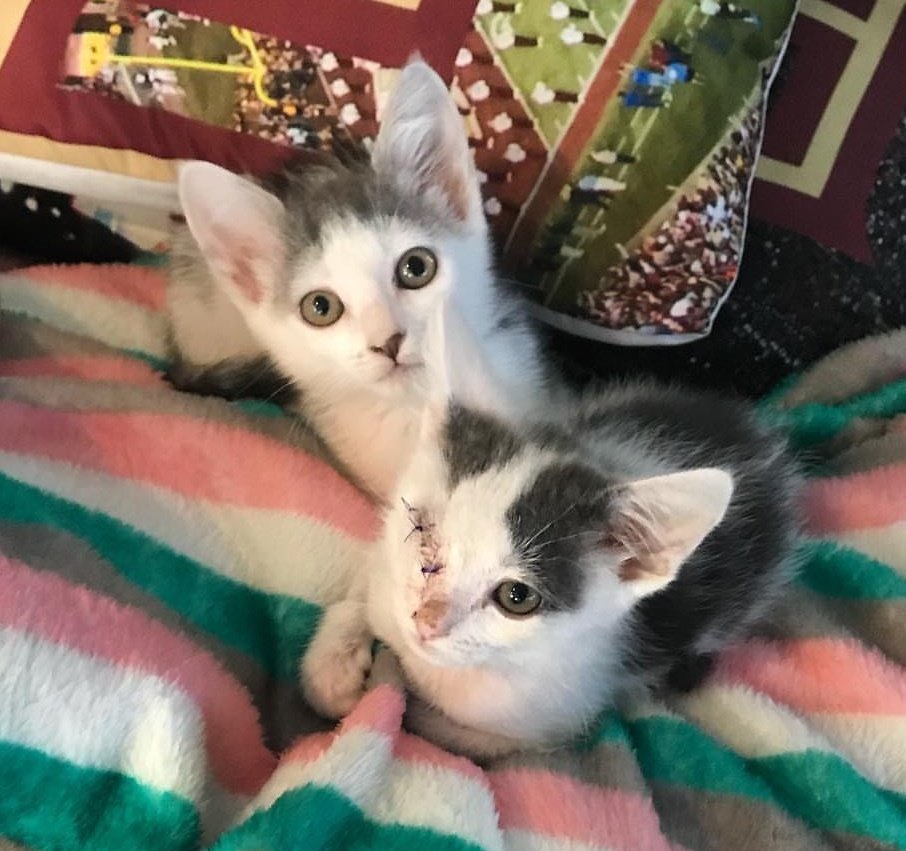 Emily @loveyourferalfelines
Once she was discharged from the hospital, she quickly bounced back to her playful, cuddly self and went about her kitten business as if nothing had changed.
During her recovery, Hope discovered her love for cuddles and how comforting they made her feel. Every day, she spent most of her time snuggling with everyone around her.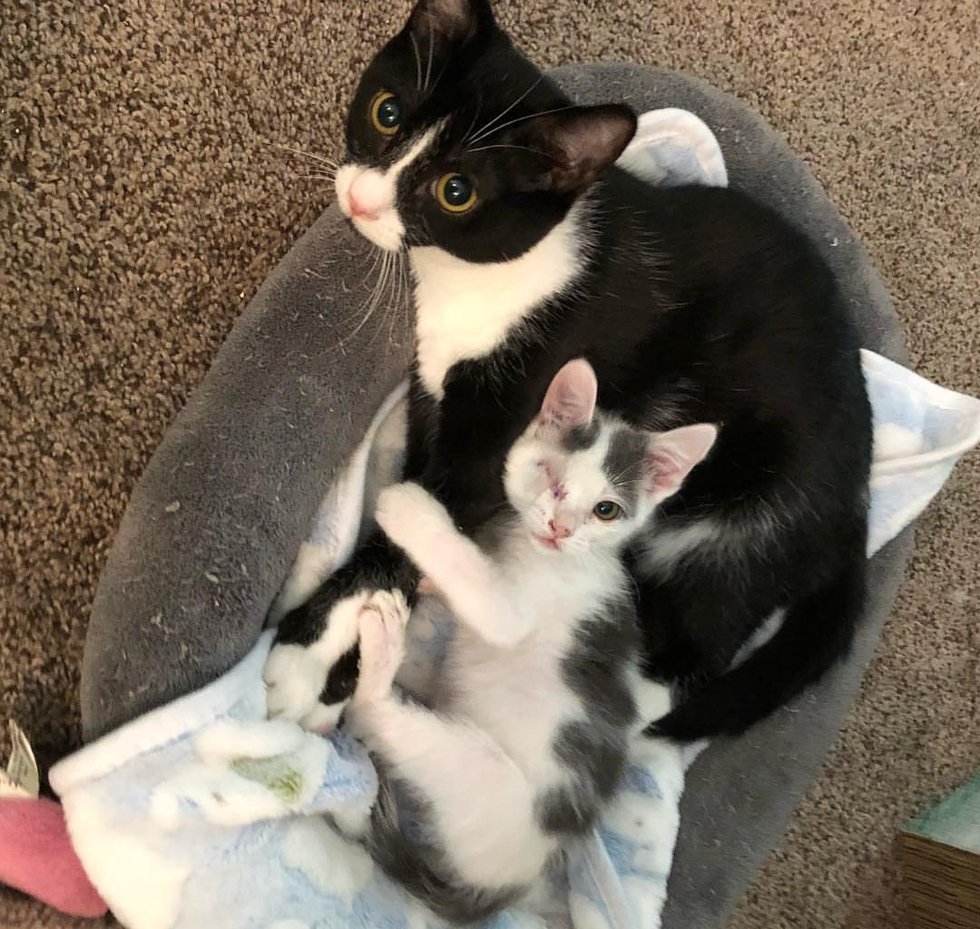 Emily @loveyourferalfelines
"She's extra cuddly now. Her favorite cuddle partner is another foster kitten a few months older than her. She'll settle for our lap if we have a fuzzy blanket," Emily told Love Meow.
Nothing makes her happier than having a buddy to snuggle with. She is in pure bliss when she can wrap her arms around another kitty.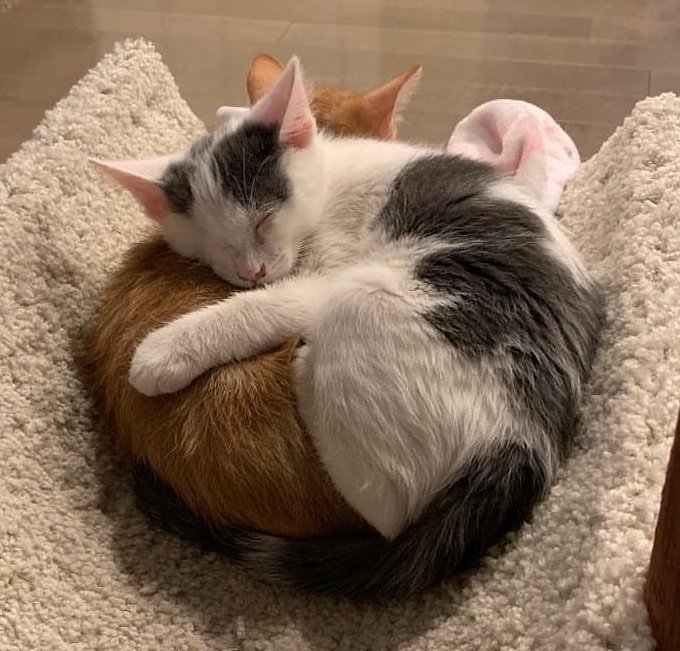 Emily @loveyourferalfelines
"Hope is also a master tiny muffin maker. I mean the tiniest of muffins. She's still on the smaller side, but it makes her even cuter."

Watch Hope the cuddle-bug in this cute video:
The resilient little girl has healed up nicely. Having one eye doesn't bother her a bit. It only adds to her cuteness.

Hope is finally ready for a new chapter in her life. She is looking for a forever home with a feline friend to cuddle with, all the time.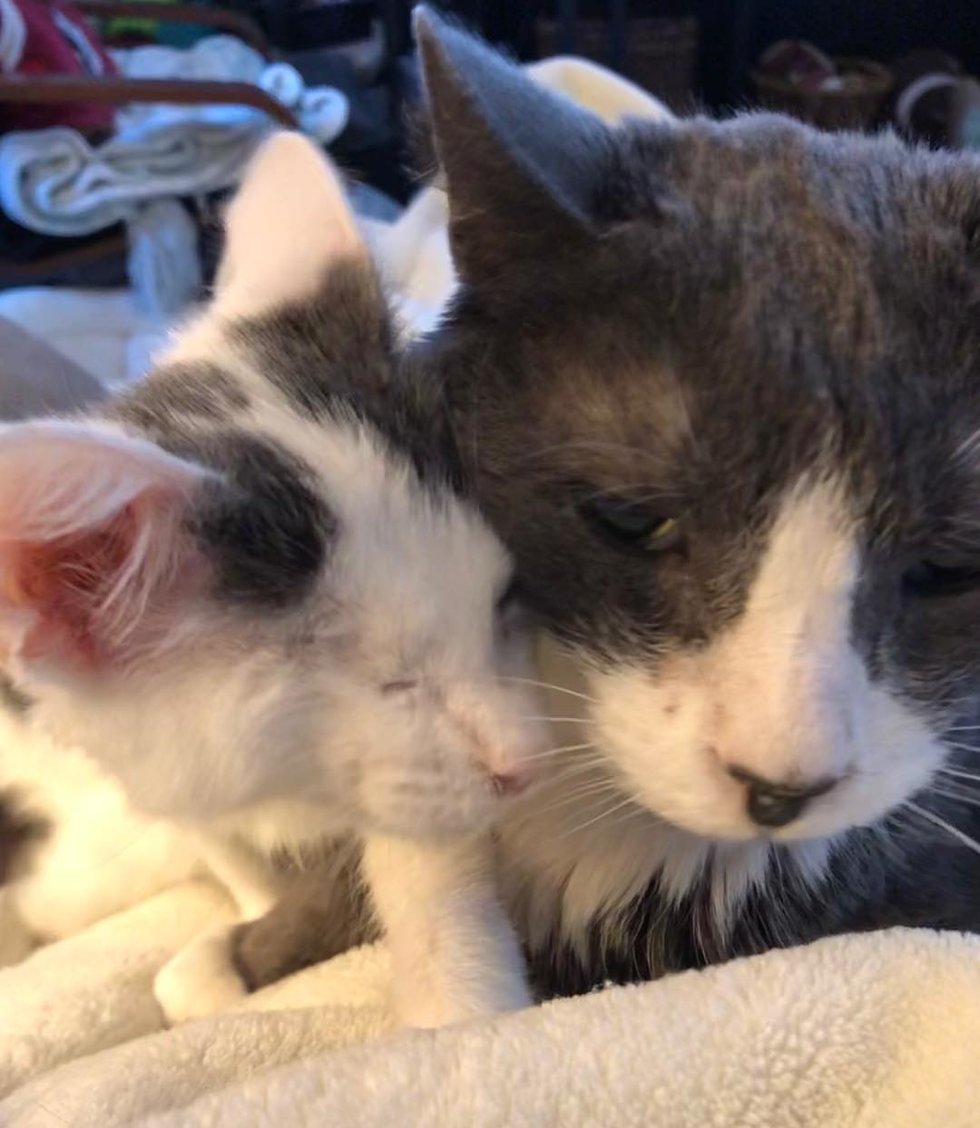 Emily @loveyourferalfelines
"Hope is such a great little kitten. She's getting bigger, braver, softer and sillier," Emily added. "Visually impaired kitties do very well. They are very resilient and it doesn't hold them back."

Happiness sometimes means being wedged in a cuddle puddle with her friends.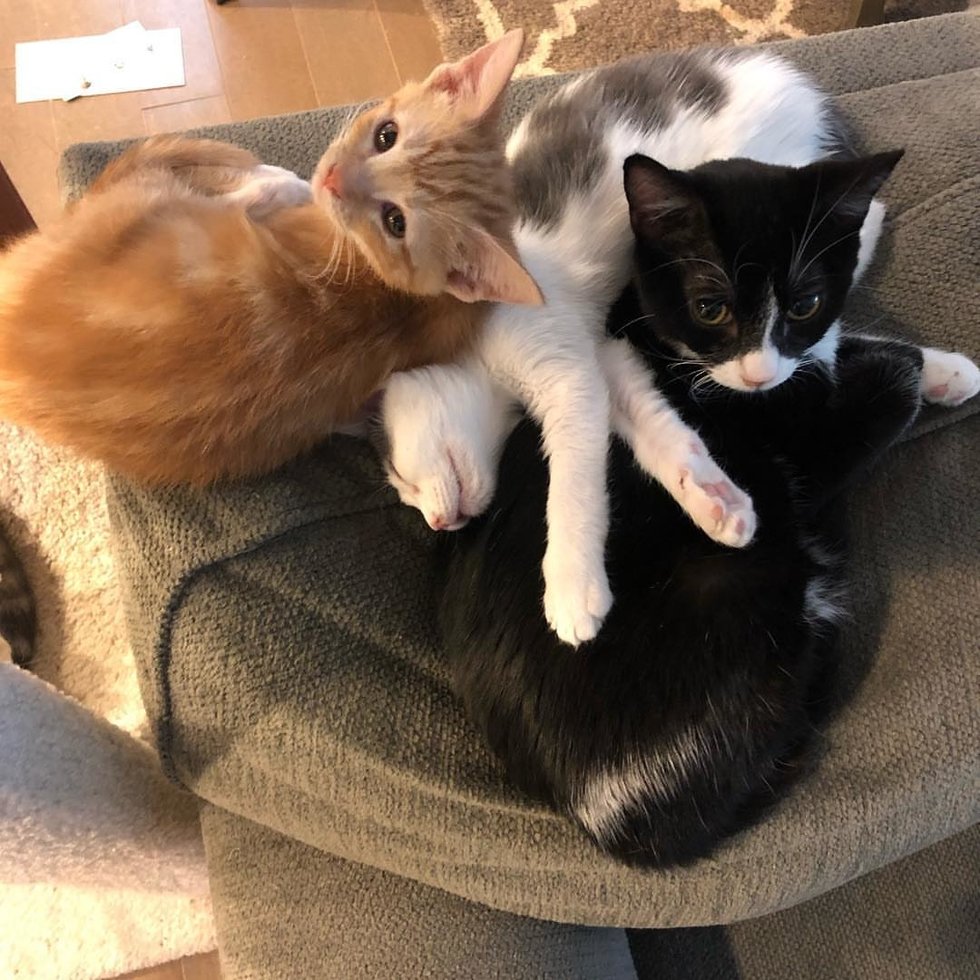 Emily @loveyourferalfelines
Hope latched onto her buddy Tux and wouldn't let him go without some cuddle time.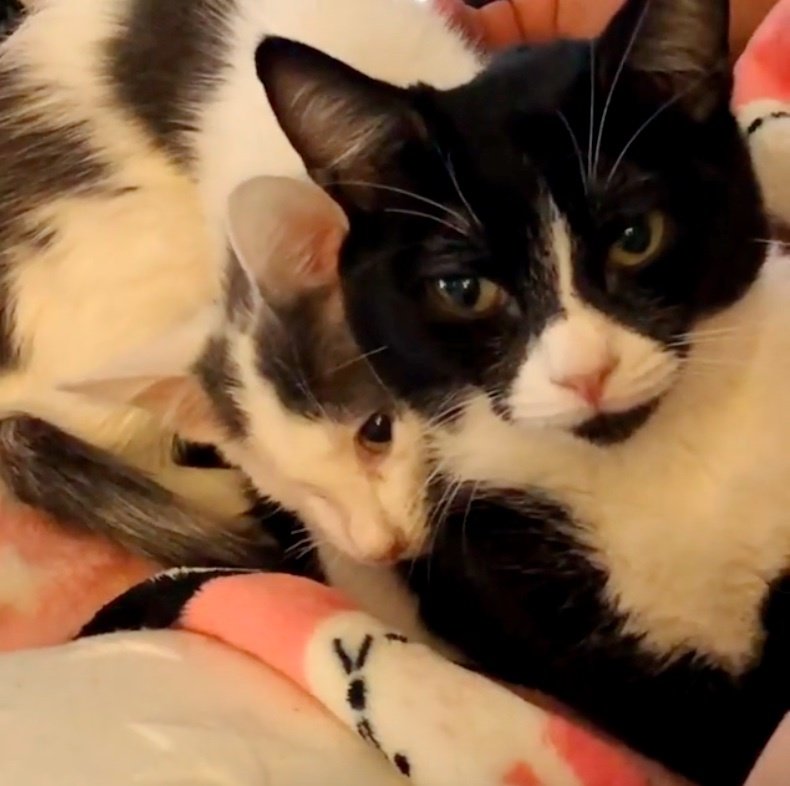 Emily @loveyourferalfelines
Share this story with your friends. Follow updates on Hope and her foster friends on Instagram. Follow Love Your Feral Felines on Facebook and Instagram. Hope is ready for pre-adoption, click here for more info.

Related story: Kitten with 4 Ears and One Eye Rescued From Under a House, Finds Someone He Loves
Original author: Amy Bojo
How do you feel about this post?
Stay Informed
When you subscribe to the blog, we will send you an e-mail when there are new updates on the site so you wouldn't miss them.
Comments
No comments made yet. Be the first to submit a comment