CATStyle Blog
Come on board and write about your funny cat and share your stories with all the other cat lovers.
3 minutes reading time
(538 words)
Tuxedo Kitten Falls From Ceiling Into Tenants' Hearts and His New Home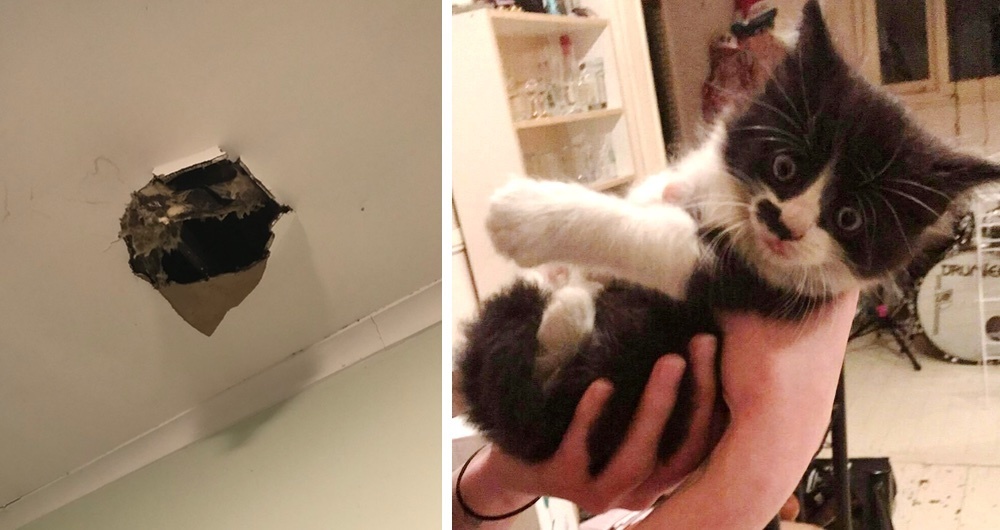 It all began when Ellie Haywood, a resident in Melbourne, Australia, and her roommates heard meowing in the wall at their very old home. The place that they are renting, has seen better days.
The condition of the house isn't desirable but rent is very affordable. They make do with posters, plants and cute things to hide or "decorate" the cracks and holes in the house.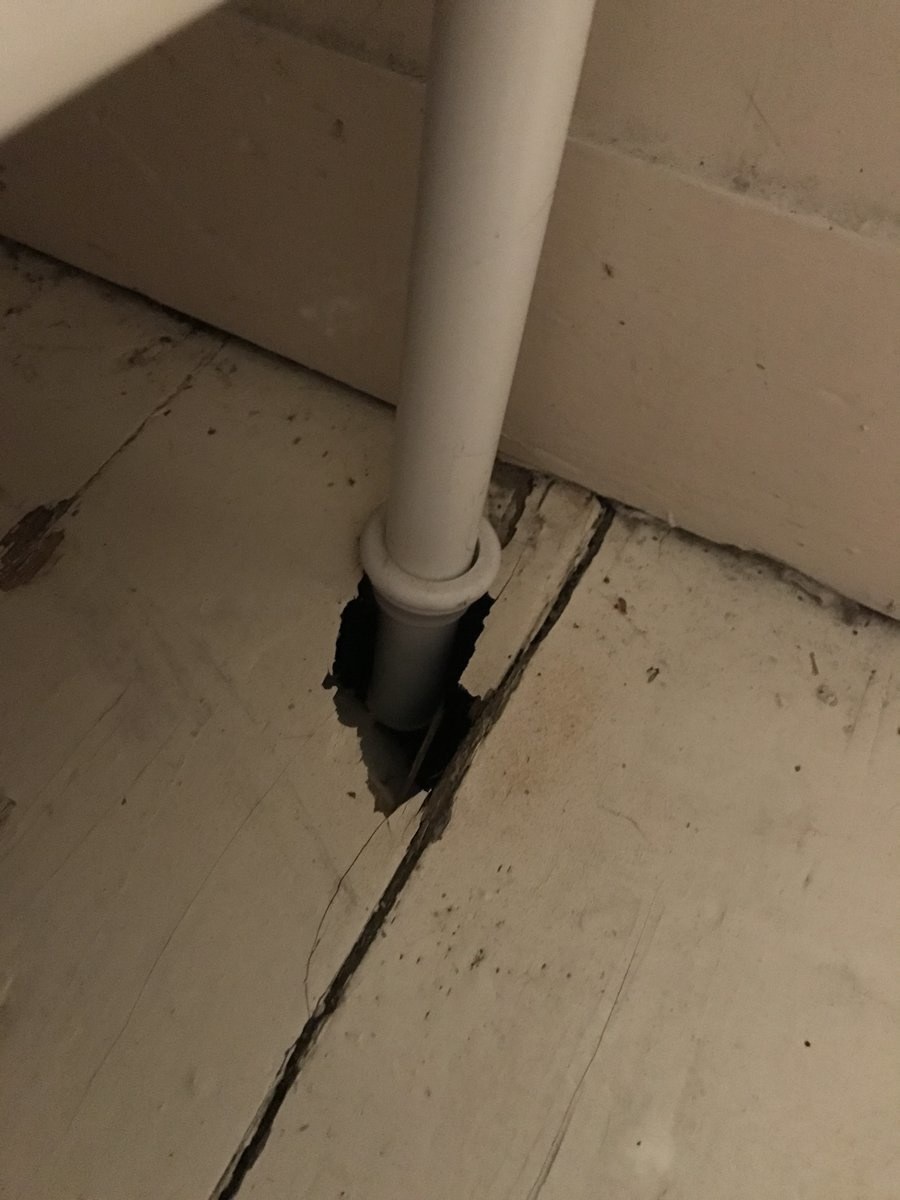 Ellie @ ellerodeo
The ceiling is known for its waterlogged and leaky tendency, so before a storm hit the area last week, Ellie and her roommates braced themselves with several buckets handy for the downpour.

But aside from all the preparation, they never expected what was about to come down from the celling.

When Ellie was in the laundry room, getting ready for bed, she suddenly heard some scratching sound coming from above.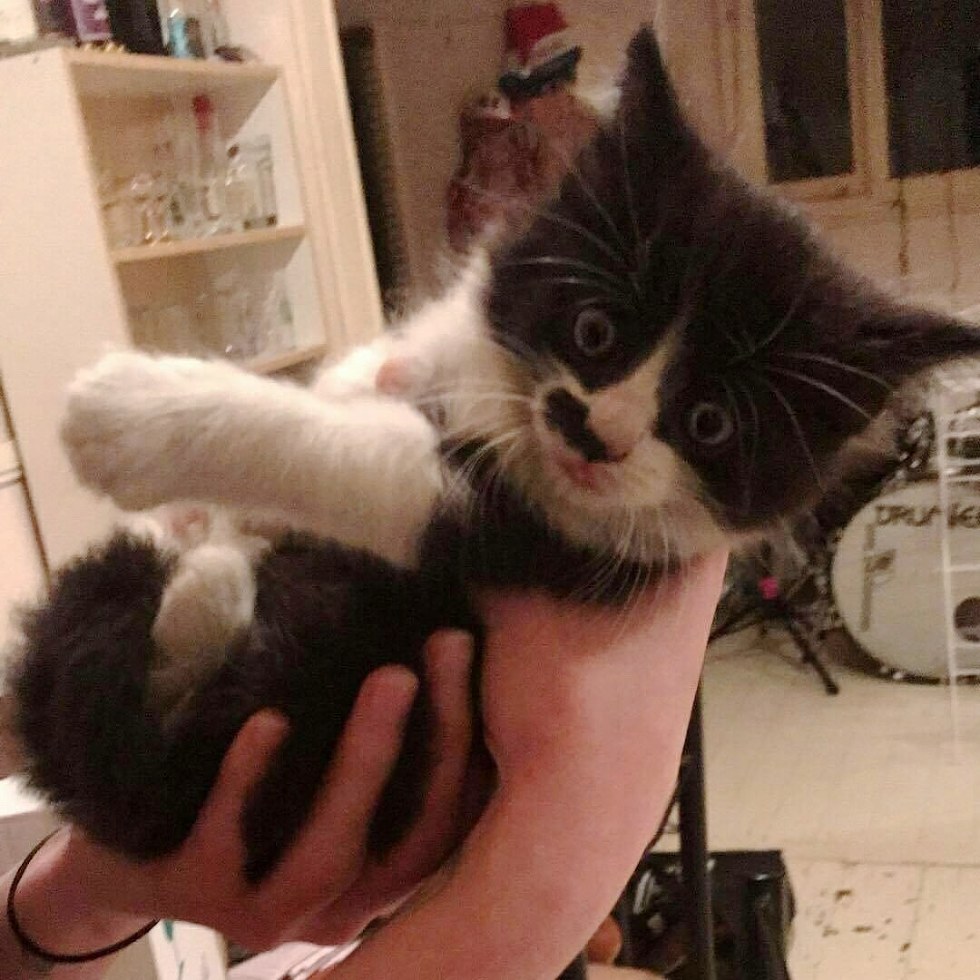 Asbestos the Roof Cat @asbestostheroofcat
"We had heard meowing in the wall for a few days beforehand," Ellie told Love Meow . At the time, they figured that there might be a mama cat and kittens in the roof.

Before they could come up with ideas to locate the kitties, that night, they came raining down from the roof. Ellie heard a loud crash. She ran over to find a hole in her ceiling and a feral cat and her kitten in her room.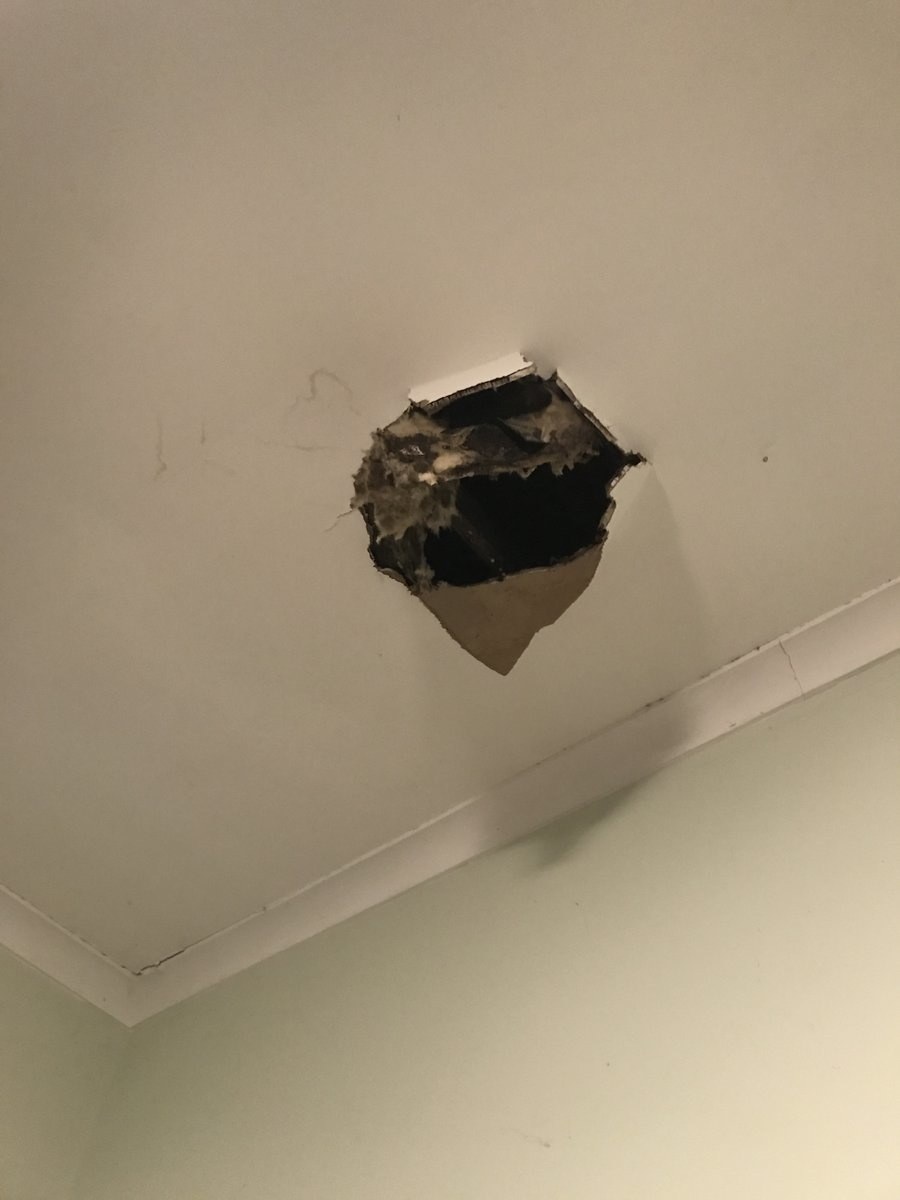 Ellie @ ellerodeo
"Part of my bedroom ceiling caved in and a kitten fell out of it. No one actually saw the kitten and his mother fall through but we found them straight away," Ellie said.

The feral cat momma immediately ran out of the house, leaving her baby behind. He was terrified and started hissing and spitting at them humans.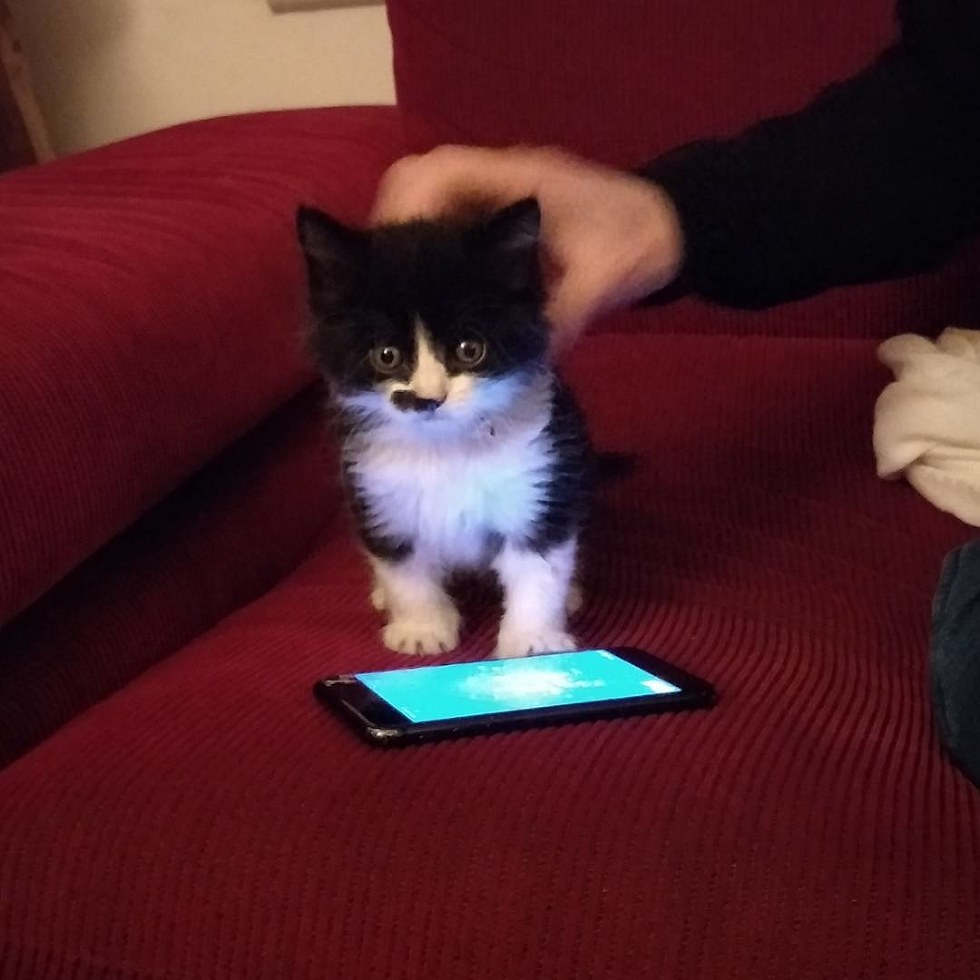 Asbestos the Roof Cat @asbestostheroofcat
"It was the first time he'd seen anything other than his mother and the inside of our roof," Ellie told Love Meow.
The mama cat never came back to claim her baby so they decided to help the little guy out. They named him Asbestos and he had found himself a new home.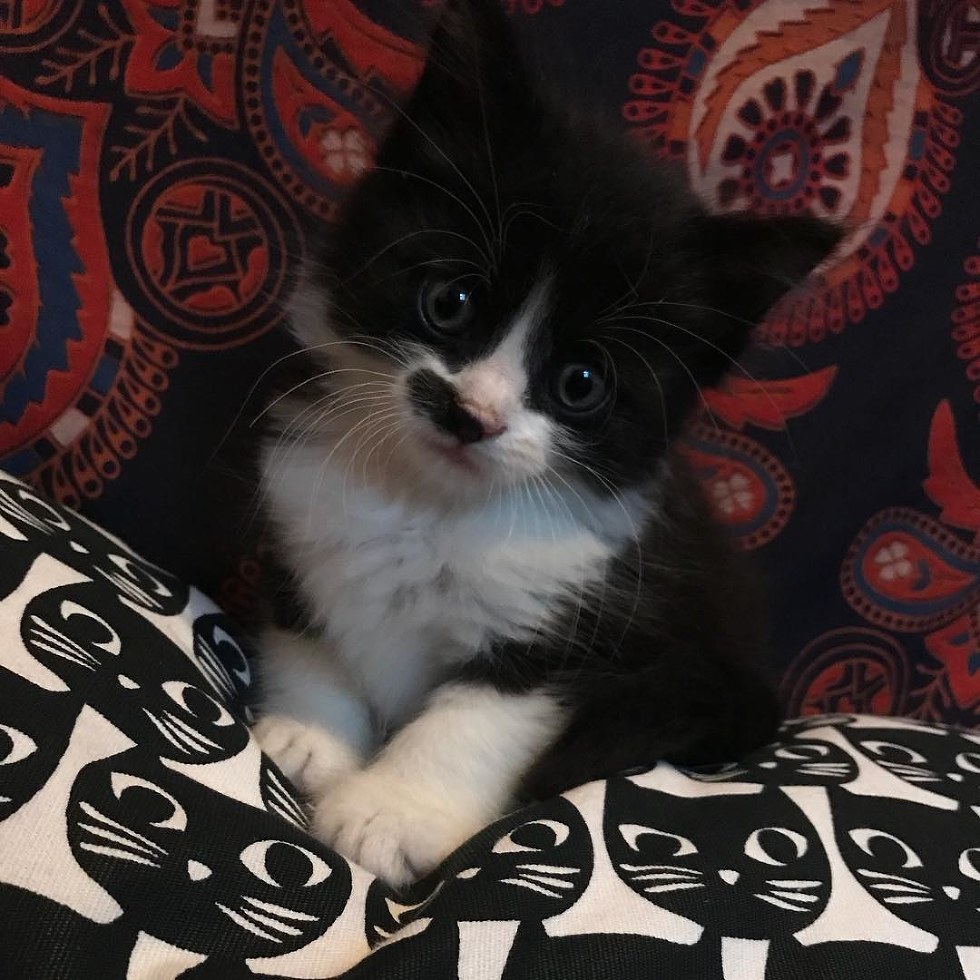 Asbestos the Roof Cat @asbestostheroofcat
It didn't take long for the little tuxedo to realize that humans aren't so bad.
When they started feeding him, he perked up and even started to purr afterwards.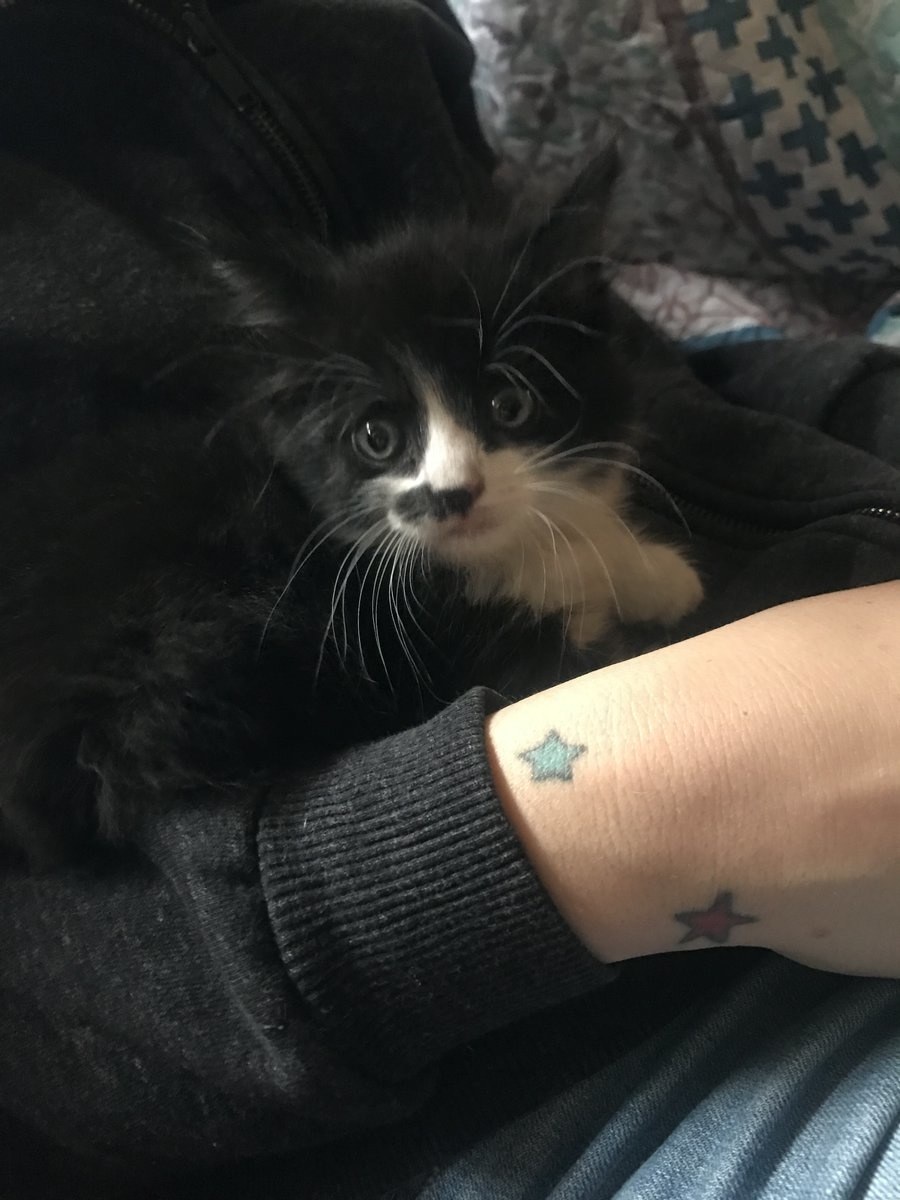 Asbestos the Roof Cat @asbestostheroofcat
"He went to the vet for a health check and was given the all-clear by the vet," Ellie told Love Meow.
In just 24 hours, the kitten went from a bitey, hissy little guy to a purry cuddlebug.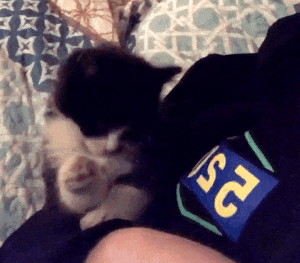 Ellie @ ellerodeo
"He is doing so well and growing up so fast."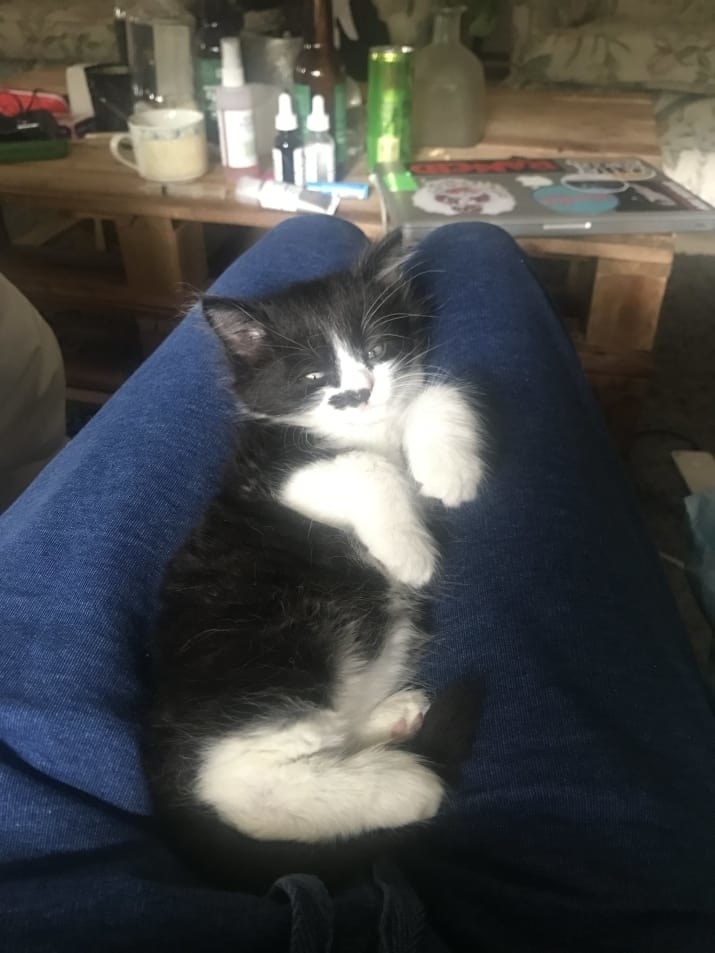 Asbestos the Roof Cat @asbestostheroofcat
"He makes us so happy. He's very active and still a bit clingy, but he's getting there," Ellie told Love Meow.
"We all work different hours so he's pretty much constantly spoilt for attention."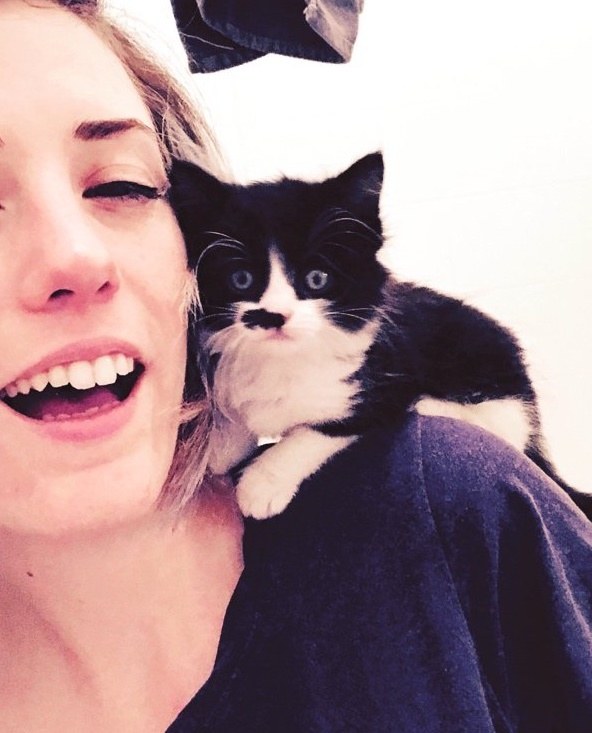 Ellie @ ellerodeo
They never expected to be chosen by a kitty this way.
Little Asbestos fell from the roof and into their hearts.
Share this story with your friends. Follow Asbestos on Instagram .

Related story: Woman Saves Kitten Trapped in Wall, Finds Four More and Mom Later, All Have Extra Toes
How do you feel about this post?
Stay Informed
When you subscribe to the blog, we will send you an e-mail when there are new updates on the site so you wouldn't miss them.
Comments
No comments made yet. Be the first to submit a comment