CATStyle Blog
Come on board and write about your funny cat and share your stories with all the other cat lovers.
2 minutes reading time
(410 words)
WIN a Copy of the Book 'Locked Down'
Introducing a delightful new book called 'Locked Down' where our house bound cats break the silence and share how they really feel about the ongoing pandemic. Who suspected that cats had so much to say about being locked down with us in these difficult times? 
Here, in wacky poetry and photos that will make you giggle, you'll find cats singing duets with their people, riding Roombas, talking to goldfish, and zooming with their feline friends.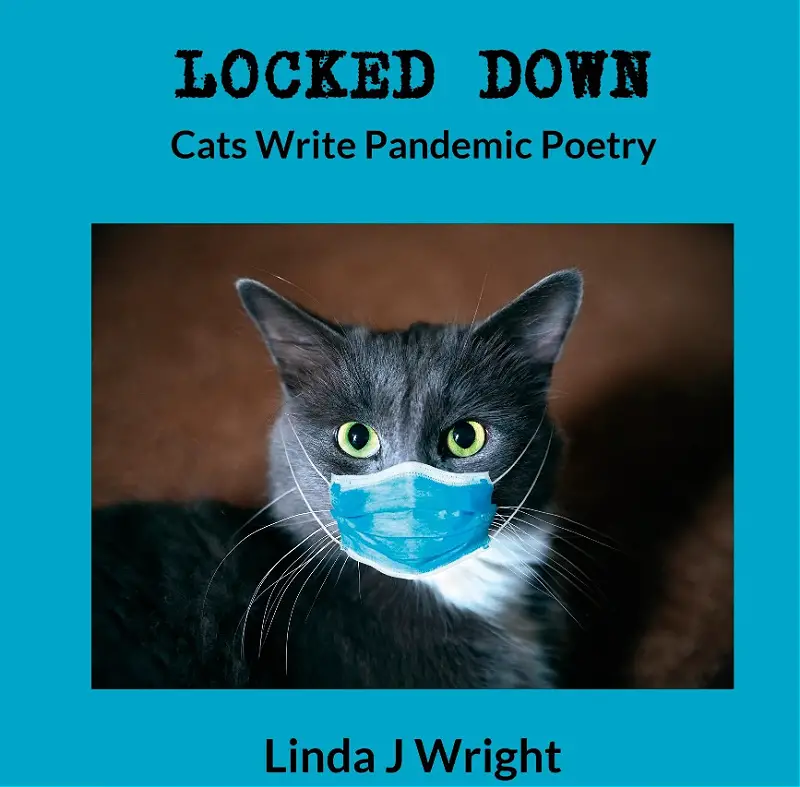 Written by Linda J. Wright — an award-winning author of animal rights mysteries, and a lifelong cat lover. 
Here's an excerpt from the book sharing some feline wisdom: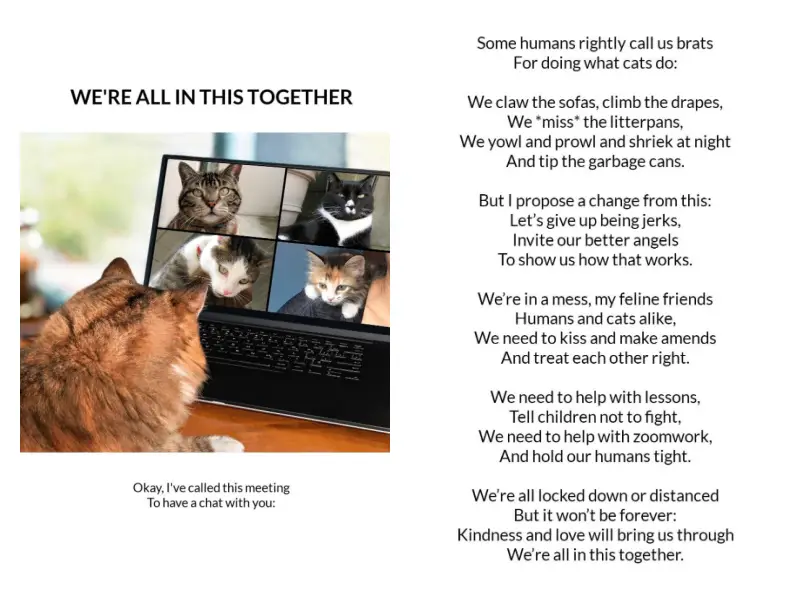 Besides being delightfully entertaining, every book you buy will feed a shelter/rescue cat at least one good meal. We really are all in this together!
And now, we're really excited to announce this latest contest where five lucky Purrington Post readers will each WIN their very own signed copy of Locked Down!
* Contest Details
This contest ends on February 12th, 2021 and is available to North American residents only. To enter you simply need to submit a comment in our "Leave a Reply" section at the bottom of this page saying:
My cat(s) names are [enter your cats names] and here's what they taught me during this pandemic [enter any lessons you learned from your cats]
The 5 winners will be chosen from all the correctly submitted entries by the author and contacted by email on or around February 19th, 2021. Have fun with your entry. Be creative and good luck!
Disclosure: Please note that by entering this contest entrants agree that their email address would be made available to the book's author (Linda J. Wright).
Author Bio
Author Linda J Wright is a lifelong cat lover, the founder of the rescue group The Cat People (Bakersfield, CA), and an award-winning author of animal-themed mysteries. You can read about her, her books, and her animal advocacy work at www.lindajwright.com. She's taking a break from writing her mystery series and is writing not only cat humor "LOCKED DOWN: Cats Write Pandemic Poetry" and coming soon "LOCKED DOWN 2: Cats Write More Pandemic Poetry" but also a series called "The Rescue Chronicles" which are a retrospective of her work in The Cat People. The "LOCKED DOWN" books and the "Rescue Chronicles" are available from her website on the "Little Books" page. Take a hop over there and get to know Linda.
Original author: Purringtonpost
How do you feel about this post?
Stay Informed
When you subscribe to the blog, we will send you an e-mail when there are new updates on the site so you wouldn't miss them.
Comments
No comments made yet. Be the first to submit a comment